Welsh Labour names police commissioner candidates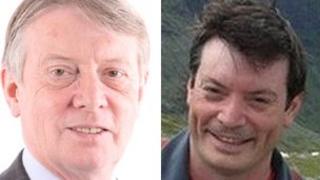 Labour has unveiled its list of candidates to become Wales' first elected police and crime commissioners.
The party initially opposed creating the posts, which will replace police authorities, but is putting up candidates for all four Welsh forces.
Cardiff South and Penarth MP Alun Michael has been nominated as Labour's candidate for south Wales with his son, Tal Michael, representing north Wales.
Elections to decide the post holders will be held on 15 November.
Former Welsh government agriculture minister Christine Gwyther will contest Dyfed-Powys with Hamish Sandison, a solicitor, standing in Gwent, who previously stood as Labour candidate in Monmouth in the 2010 General Election.
Commissioners will be responsible for setting budgets and council tax precepts. They will also have the power to hire and fire chief constables.
Alun Michael - who was the Welsh assembly's first leader - will stand down as an MP, causing a by-election.
He highlighted his experience as a Home Office minister in the previous Labour UK government.
"As I brought in the anti-social behaviour order which has been a success in many areas I think I can claim to understand the problem rather better than most," he said.
Some crimes, such as domestic violence, needed a "more organised approach", he added.
In January, his son announced his decision to resign as the chief executive of North Wales Police Authority so he could stand for the election to become the area's first police and crime commissioner.
It is a £70,000-a-year post.
He said: "I'm not going to be scoring points off the police. I don't think that's right.
"But they do need to be held to account and it is important for the commissioner to work with them to work out how we can reduce spend without reducing service."
The UK government says replacing police authorities with elected commissioners in Wales and England, outside London, will make the police more accountable.
Hire and fire
The Conservatives are seeking to contest all four posts and want to get as many candidates selected as possible by the end of next month.
Plaid Cymru has said it will back non-party candidates who support devolving police powers.
Liberal Democrat members standing in the elections will not receive party funding.
Home Secretary Theresa May has said she hopes to see more independent candidates such as Falklands veteran Simon Weston, who will run for South Wales Police commissioner.
Prof Martin Innes, director of the Police Science Institute at Cardiff University, said he was optimistic the reforms would work, despite the challenge of a public spending squeeze.
"I think one of the things to say about looking forward is this is going to be an incredibly challenging role," he said.
"There's been lots of debate about politicisation and what could go wrong with it.
"But actually we know that public services are going to see reductions in funding and it's going to be very difficult, I think, for any police and crime commissioner to square, if you like, public demand for policing and the resources that they have actually got available."