David Melding AM reveals new social-economic think-tank plan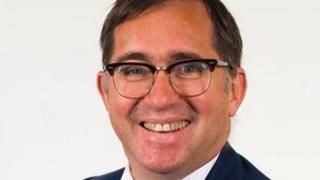 Some Conservatives, Liberal Democrats, Plaid Cymru and non-party activists look set to join forces to discuss policy ideas on key matters.
Conservative assembly member David Melding is behind the think-tank, which is being launched next month.
He told BBC Radio Wales' Sunday Supplement programme he wants the people of Wales to have the best social economic policies.
Issues will include education, the economy and housing.
"We just feel as a force, as a source of ideas and inspiration, the centre-right has not had the priority it needs and we need for the people of Wales to get the best social economic policies possible," he said.
"That's why we want a united platform which parks the constitutional question and asks the question whatever the political architecture, what sort of policies do we need to have a really successful country."
Mr Melding, AM for South Wales Central, said the new think-tank would not take a position on political apparatus.
Instead he added: "We want to get people to think critically about what we need for education, for the economy, for housing, whatever it is and get people to come together.
'Surprised'
"They may not have a typical political tradition or support a particular party but really discuss ideas which could be fed through into public policy at the time and really influence Wales for the better."
But Mr Melding said the think-tank would not be used to recruit new members for the Conservatives as the party aims to re-build its profile in Wales and attempt to dislodge Labour from power.
"I think people would be surprised about how cross-party and non-party it is because this is not going to work if it's seen as some sort of recruiting sergeant for the Conservative party," he said.
"In fact I would be bitterly disappointed if any new member of this think-tank says I've change my political party because of the think-tank's work.
"We would have failed if that's the case.
"It really is meant to be the platform for discussion of ideas and we have senior members of the Liberal Democrats and Plaid Cymru and the nationalist tradition who are going to be involved.
"I think people will find this refreshing in that we can come together and discuss ideas."