Unite union shuns 'opportunistic' offer from Plaid Cymru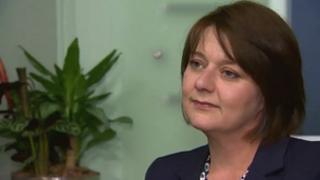 Plaid Cymru's new leader has been rebuffed by the leader of one of Wales' biggest trade unions.
Andy Richards, Wales secretary of Unite, said an invitation from Plaid's Leanne Wood to create a new alliance was an "opportunistic publicity stunt".
Ms Wood has reached out to Labour and the unions to form a united front against public spending cuts.
But Mr Richards rejected her overture and said his members would stick with the Labour Party.
The war of words between Unite, Labour's biggest financial backer, and Plaid, comes after Ms Wood met representatives of the Public and Commercial Services Union (PCS) - the non-Labour aligned union that represents public sector workers.
Ms Wood has spoken of the need for progressives to come together to oppose the UK government's austerity drive.
Members of PCS and Unite joined a one-day strike against pension changes last week.
Her supporters hope left-winger Ms Wood will help Plaid win ground in Labour's traditional heartlands following her election to the party leadership in March.
But Plaid suffered losses when voters went to the polls in local council elections earlier this month.
'Cynical'
Mr Richards said Plaid's timing was "as cynical as it is shameless", coming ahead of next week's Wales TUC conference in Llandudno where the union will launch a discussion on "Making Devolution Work".
"There is only one party for the working people of Wales, the party that the trade unions founded to give a voice to working people - the Labour Party. This is why it is called the Labour Party," he said.
Plaid AM Rhodri Glyn Thomas invited Welsh Labour leader Carwyn Jones to distance himself from Mr Richard's remarks.
He said: "His tribal comments show clearly that his priority is what's best for the Labour Party - rather than what's best for his members."
He said Plaid has stood shoulder to shoulder with Unite members to protect jobs and pensions, while Ed Miliband has said public sector pay restraint would continue if Labour regained power.