Welsh university changes will be completed - minister Leighton Andrews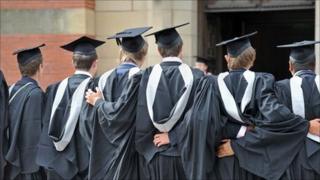 Changing higher education in Wales has been an ambition of every Welsh government since devolution, says the education minister.
Student leaders say they will "think constructively" about Leighton Andrews' south east Wales super university plan.
The outgoing University of Wales Newport head wants a new entrepreneurial university instead.
But Mr Andrews says the plans are a "collective agenda" which will be completed.
Mr Andrews is to give a talk in Aberystwyth on Monday night on the historical context of the debate.
Mr Andrews has already said he wants to create "strong, successful and sustainable" universities in Wales.
Last November, the Welsh government announced its desire to create a new "super university" in south east Wales, combining the University of Wales Newport, Glamorgan University and Cardiff Metropolitan University.
The board of governors at Cardiff Metropolitan University has already said it was opposed to any new enlarged institution and say it is prepared to fight the move in the courts.
Peter Noyes, the outgoing vice-chancellor of the University of Wales Newport, recently claimed there was a "conspiracy" to force the university to merge.
'Sense of perspective'
He has said his preference would be the creation of a new entrepreneurial university for the region rather than a merger of existing institutions.
The National Union of Students (NUS) has said students must be a priority as universities "thrash out" details.
NUS Wales president Luke Young said the future of higher education in south east Wales could not be reduced to arguments between vice chancellors and the government.
"The minister says he has a clear case for one large metropolitan university. We believe he should present the case publically so that students can scrutinise the plans."
"We are willing to think constructively about higher education provision in south east Wales, however, it will require the commitment from vice chancellors and the Government that students will be at the centre of discussions and not left on the sidelines."
Mr Andrews is to address the Institute of Welsh Politics in Aberystwyth, and say that some history "would provide a sense of perspective" on the debate around higher education.
He will say: "The very first policy review carried out by the National Assembly's Education and Lifelong Learning Committee in the first assembly term was that of higher education.
"Under the chairmanship of Cynog Dafis AM, there was cross-party agreement that there should be a revised structure of higher education, based on the cluster model, recognising that individual institutions were too small to be sustainable.
"I set out this history because it is important, I think, for people to understand the policy process and the extent of political and public engagement that there has been over time."
Mr Andrews is also expected to say he would prefer to focus on developing the "quality, range of provision, strength of research and the opportunities" for higher education establishments in Wales, rather than on its structure.
He will also say that the Welsh government "will complete the agenda."