Ceredigion: Ellen ap Gwynn is first Plaid Cymru leader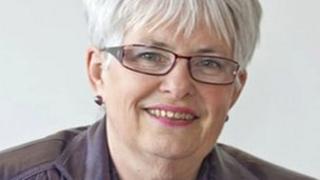 Plaid Cymru has secured the leadership of Ceredigion council for the first time at the head of a coalition.
Plaid councillor Ellen ap Gwynn was voted in as leader of the authority on Friday.
It is something of a consolation for Plaid a week after poor election results where it lost seats and the leadership of other councils.
Elsewhere, councillors are in talks on forming administrations to take control of county halls.
'Fresh start'
Ms ap Gwynn was voted in by a majority of councillors, including independent members. Liberal Democrats abstained.
She said there would be a four-sided coalition, including her party, two independent groups and one Labour member.
She said: "This moment also heralds a fresh start for Ceredigion with Plaid Cymru at the helm of a new coalition to run the county.
"I intend to be an inclusive leader, and we will work hard to ensure that Ceredigion people feel involved in council decisions."
Plaid is the biggest party on the council with 19 seats.
Plaid lost 41 councillors across Wales last week. It also lost the leadership of Caerphilly and overall control of Gwynedd, where a by-election is due to take place in a vacant ward.
Party leader Leanne Wood told BBC Wales' Dragon's Eye programme that the results were "disappointing in part" and the party needed "fresh thinking".
She claimed there were positives, however. Plaid broke new ground in Abergele in Conwy county, Milford Haven in Pembrokeshire and Pentre in the Rhondda.
Meanwhile, Labour made gains, bouncing back from a drubbing in its heartlands at the previous council elections in 2008.
It is in charge of 10 authorities and in the driving seat in another four which fell to no overall control.
In Wrexham, for example, Labour is talking to a group of independents, with further meetings scheduled after the weekend.
Wrexham Labour group leader Neil Rogers said: "I don't want to rush into it.
"I want to make sure it's a proper exercise."