Welsh government rejects presiding officer Butler's call for more AMs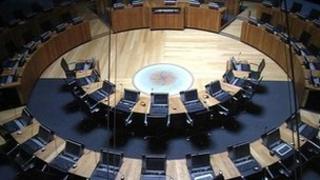 The Welsh government says there is "no appetite" for more politicians after the assembly's presiding officer suggested increasing the number of AMs.
Rosemary Butler said she was in favour of having 80 AMs instead of the current 60.
She accepted there was no demand from voters for more politicians, especially at a time when the number of MPs was being cut.
But some councils have more members than the assembly, she said.
In a BBC Wales interview, she said: "I've always said there aren't enough Assembly Members, but we are where we are.
"I can't see an appetite outside for increasing the number of politicians. In fact they are reducing the number in parliament. We are losing MPs in Wales.
"It is tough and it is hard, but I have to make sure that systems are in place to allow the members to deal with the business that we have with the numbers that we do have."
Asked how many AMs she would like, she said: "Probably 80."
A Welsh government spokesman said: "We do not believe there is an appetite amongst the public for more politicians at this time."
There have been 60 AMs - 40 with first-past-the-post seats and 20 from electoral regions - since the outset of devolution in 1999.
The Richard Commission into devolution recommended adding another 20 members in 2004.
Space for seats
There is space to install more seats for members in the Senedd chamber.
The presiding officer's comments risk dismaying opponents of boosting the assembly's law-making powers, who argued that a Yes vote in last year's referendum on the issue would pave the way to more AMs.
But Mrs Butler said No campaigners "don't believe in devolution full stop, whether you have 10 members or 110 members".
"If you take out the government it does reduce the number of members available to do the work quite considerably.
"I'm not saying we won't manage it, because we'll do it and we'll do it very well. But you ask me the question did I think there should be more assembly members, I think there should.
"Many of the city councils and county councils in Wales have far more members than we do and far less responsibility."