Carwyn Jones to discuss mining plan with steel firm Tata on India trade visit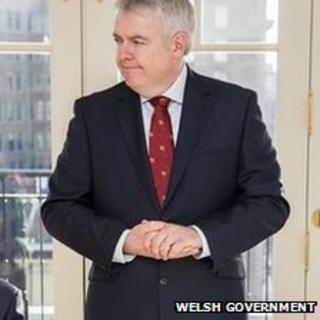 First Minister Carwyn Jones will discuss the possibility of steel giant Tata mining south Wales coal when he meets the company on a visit to India.
He is leading a delegation of business people and academics on a three-day trade mission from Wednesday.
Tata is examining whether it can mine coal near its Port Talbot steel plant.
A feasibility study on the idea, which would cost about £500m, is expected to be on the agenda when Mr Jones meets Tata Steel's deputy chair on Friday.
The Indian-owned company says the project would create up to 500 jobs. The coal would be turned into coke and used in the steel production.
Bollywood location
The company announced it was temporarily mothballing its Llanwern works in Newport last December and invited 5,000 workers to apply for extra time off at half pay last month, citing tough market conditions.
But its says a decision to invest £185m on a new blast furnace at Port Talbot shows its commitment to Wales.
A Welsh government spokesman said Mr Jones would also make clear his concern about high energy costs.
Tata, which employs about 7,500 in Wales, says the costs faced by its UK operation are 50% higher than in other parts of Europe.
It has complained about the impact on its business of a minimum price for carbon emissions from power stations, introduced in the UK this month.
The Welsh government also said it was eager to see Wales used as a location by more Bollywood filmmakers, although Mr Jones does not have meetings scheduled with representatives of India's movie industry.
The visit to India, whose economy has grown rapidly in recent years, is the third overseas trip Mr Jones has made since visiting Chongqing, China, last October.
He spent four days in New York and Washington last month as part of an effort to promote Wales as a placed to invest and do business.
Mr Jones, who will start the visit in the Indian capital New Delhi, said: "I am under no illusions that Wales is but one of many nations vying for the attention of India and that is why the Welsh government wants to continue to build our partnership so we can generate more business, education and cultural links.
"Indian businesses already employ a significant number of people in Wales. From Tata Steel and Tritech, through to the pharmaceutical companies Wockhardt UK and Bilcare, the Welsh-Indian business relationship is already a reality and I want to see it strengthened."
He added: "Wales has so much to offer India. Top-class education facilities, a highly skilled workforce and excellent opportunities for Indian businesses and investors to set up their European operations here in Wales.
"My visit is about how our two nations can work together to mutual benefit and ultimately create jobs."