Jobs Growth Wales: Federation of Small Businesses welcomes scheme, amid concern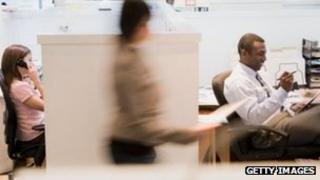 A project helping young people into work in Wales has been welcomed by a group supporting small firms, but it warns the economy must be strong to sustain the jobs.
Jobs Growth Wales aims to create 12,000 work opportunities lasting six months over the next three years.
The Federation of Small Businesses welcomed the scheme, but voiced concern about the future of the jobs.
The Welsh government said it would encourage firms to make jobs permanent.
First Minister Carwyn Jones said the £75m scheme would create 4,000 jobs a year for young people between the ages of 16 and 24 to be paid at least the minimum wage 25 hours a week and for at least six months.
Iestyn Davies, of the Federation of Small Businesses in Wales praised the project, but voiced caution.
He said: "It's a good initiative - 4,000 jobs for young people is very important.
"But it's important to realise as well that these are essentially training places and we've got to make sure the economy is strong enough and robust enough, not only to create these training places or jobs, but to sustain them into the future.
"It's important that the good work which the Welsh government is doing to support these training places is also supported by wider work in the economy."
One company involved in a pilot for the scheme is Scarlet Communications in Carmarthen.
Christopher Davies, who has been working for the company for the past few weeks, said: "I left my last job just before Christmas.
"Basically, it's lead generating. We call up people offering a review of their insurance."
He said the pay was good.
"It's national minimum wage, but there's lot of incentives to push for bonuses and commission and stuff like that," he added.
"It kind of urges you on to work that little bit harder. It also gives you the chance to move on up into sales."
'Full salary'
Andrew Clarke, who is in charge of training at Scarlet Communications, said the scheme had provided the company with the opportunity to expand.
"What this scheme does it allows me to bring candidates in either through the job centre or Careers Wales and they go through full training with myself," he said.
"From day one they're on the full salary, exactly the same as all of the staff members.
"We've now been employing people for just over three months via this. We weren't able to grow without the scheme, so not only has it provided jobs to youth in Wales, it's provided us as a business to expand."
The Welsh government will cover the cost of a minimum wage salary and the employer's National Insurance contribution.
Ministers said a variety of large and small private sector companies from across Wales were interested in taking part following a successful pilot.
They say the scheme will give young people "good quality work experience" to help them into permanent jobs or apprenticeships.