Carwyn Jones apologises for bank bid document errors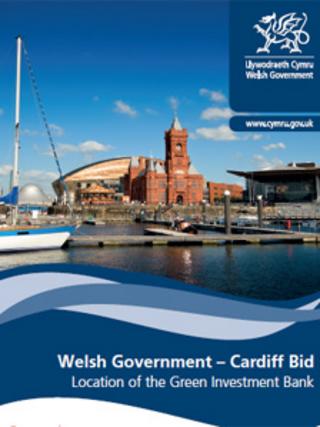 Carwyn Jones has apologised for grammatical errors in a bid document for a new UK green investment bank in Cardiff.
The first minister said the city was overlooked because it lacked direct flights to Frankfurt.
In the Senedd, the Conservatives attacked the bid for failing to make it past the first round of the process.
The bank, being set up with £3bn of public money to fund green energy schemes, was awarded to Edinburgh.
Welsh Conservative leader Andrew RT Davies pointed to grammatical errors in theWelsh government's submission.
One sentence reads: "This a leading commercial law firm with a proven track record across the UK and internationally."
Another says: "The average all property prices in Cardiff is substantially lower than the average for England."
Tory assembly leader Mr Davies said Cardiff had been rejected in the first round along with such "financial colossuses" as Bicester, Torbay and Hull.
The first minister replied: "I apologise for the grammatical mistakes. The word's colossi by the way, not colossuses."
He said listening to the leader of the opposition "was a bit like listening to General Custer".
"You know he shouldn't be there, you know he's going to lose but at least you know with Custer he wasn't being attacked by his own men."
Mr Jones said his administration was told Cardiff did not get beyond the first stage because it has no direct flights to Frankfurt.
He added that the prime minister wanted to "placate the Scots", noting that David Cameron did not attend a Welsh Conservative rally in St Asaph, Denbighshire, on Sunday.
Mr Davies later uploaded a picture of an extract from a dictionary showing colossi and colossuses are both acceptable plurals of colossus.
'Robust'
Cardiff was one of 32 locations across Britain hoping to host the bank.
The Welsh government said this month that it submitted a "robust" bid.
At the final question time before the Easter recess, Mr Jones clashed with Plaid Cymru leader Leanne Wood over nuclear power.
He said the Welsh government supported a new nuclear power station at Wylfa on Anglesey, saying it would create 600 jobs.
Ms Wood said: "We do need jobs in the north west of Wales but I would argue that jobs in the renewable sector are the ones that we should be pursuing."
The renewable energy industry was "crying out for more clarity and direction" from the Welsh government, she said.
The first minister repeated a call for further devolution of planning consent and the subsidy regime so his government can "offer a fully comprehensive service to potential investors".
Waiting lists
He rejected thefindings of research by the Liberal Democratsthat only 37% of dentists in Wales are accepting new NHS patients.
The Welsh Lib Dems had surveyed a "self-selecting audience", he said.
"The reality is that in much of Wales access to NHS dentistry is much improved over the past five years," he said.
But Welsh Lib Dem leader Kirsty Williams said: "The truth is that many people struggle to find an NHS dentist.
"Even in the dental practices that are still accepting NHS patients 65% of waiting lists are for more than two months and in some cases waiting lists to get on a list exceeded one year."