Adam Price: WDA was 'thrown away' and Wales needs new economic powerhouse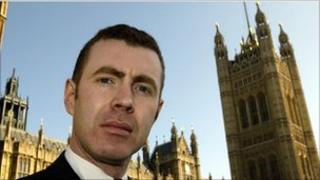 Former Plaid Cymru MP Adam Price has called for a new organisation like the former Welsh Development Agency (WDA) to promote Wales overseas.
He said the WDA was one of the "finest brands that Wales has ever produced".
He said that since its demise Wales' profile in the US had been hard hit.
The Welsh government said recently that its new way of attracting investment was "flexible" while the WDA had run its course.
'Creative relationship'
Mr Price, formerly the MP for Carmarthen East and Dinefwr, and now a Harvard University research fellow, has been appointed by new Plaid leader Leanne Wood to lead a commission to devise the party's economic policy.
He said: "People in Boston are always asking me 'what has happened to Wales'? 'We used to see it constantly when we were arriving at the airport'.
"Well, Wales is still here. Unfortunately, we threw away a brand," he told BBC Radio Wales' Sunday Supplement programme.
"We need to probably go a little bit back to the future and reinvent something like the WDA as an arm's length independent powerhouse that will produce the ideas that we need.
"And also be able to have a creative relationship with business in a way that it is not possible for civil servants to do because they work in a different culture with different parameters."
The WDA was abolished under a so-called "bonfire of the quangos" in 2006.
A Welsh Affairs Committee report said Welsh success in attracting foreign businesses had deteriorated since the late 1980s and early 90s when it accounted for 15% of investment into the UK. By 2009-10 it was down to 6%.
Earlier this month, former WDA chair Lord Rowe-Beddoe said it should not be brought back as Wales should look forward.
A Welsh government spokesman has said previously that it has established a major projects team to lead on trade and investment.
"Our new model is a more flexible and responsive model and fit for the future, not simply a throwback to the WDA, which had run its course," he said.