Budget 2012: Regional pay divisive, says Welsh Finance Minister Jane Hutt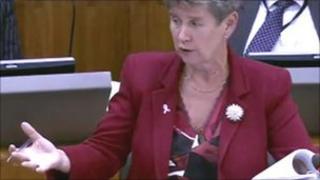 The idea of introducing regional pay in the public sector has been branded "socially divisive" by Welsh government Finance Minister Jane Hutt.
Some UK government departments could move towards more local pay for staff when wage freezes end this year.
Regional pay means paying different rates to staff around the country, instead of agreeing national pay deals.
The Treasury argues the public sector pays more than it should for staff in some areas.
It also says money might be diverted from improving services where public sector workers earn more than in the private sector.
The move towards regional pay was announced in Wednesday's Budget. Big Welsh employers that could be affected include the Department for Work and Pensions and the DVLA.
'Economic sense'
Ms Hutt said: "It doesn't make economic sense - taking more money out of the economy.
"It doesn't make social sense - it's socially divisive."
She added: "I believe in a UK public service in terms of the rate for the job. It shouldn't be a matter of where you live.
"In fact it's going to drive down and divide our key public service workforce."
The chancellor asked independent pay review boards to examine the scope for regional pay last autumn.
Asubmissionfrom the Treasury says "the public sector pays more than is necessary to recruit, retain and motivate staff in some areas".
It adds that a "pay premium" where public sector employees earn more than in the private sector diverts money away from improving services.
Local businesses
But the move has been criticised from the backbenches.
The Conservative MP for Aberconwy has claimed the UK government proposals on regional pay could be "potentially dangerous" in relation to Wales.
Speaking on the Welsh-language programme, Newyddion, Guto Bebb said that proposals to vary the salaries of public sector workers depending on where they live "needed to be looked at carefully" to consider whether or not the plans were "the right way ahead".
He said: "We need a debate - this is not an England versus Wales issue but an issue for individual regions. We need to get to grips with the fact that the economy isn't competitive."
Supporters of regional pay fear higher public sector wages make it difficult for local businesses to compete.
But the UK government's opponents say Wales would lose out.
Labour has also criticised a cash freeze for age-related tax allowances that will leave pensioners worse off in real terms.
Leighton Reed, tax director, at accountancy firm Broomfield and Alexander, told Radio Wales the effect would be a "mixed bag" for pensioners depending on their income.
He said: "The government are saying that pensioners are not losing out in cash terms. I can't quite get my head around what they mean by that.
"I think what they are saying is that the extra tax is compensated by the extra state pension but, of course, they are facing increased costs as well in terms of day-to-day living, so ultimately, I think pensioners will lose out. Mathematically that has to be the case."
Lesley Kelleher, a semi-retired social worker from Cardiff, said she and her husband had budgeted for him to retire next year.
She said: "We've worked out our sums based on what we believed we would get. Pensioners are just easy targets for the government and it does feel as if we've been mugged."
'Distorting effect'
Wales Office minister David Jones told the same programme that pensioners were progressively "becoming better and better off" and the Budget changes ensured 42,000 people in Wales have been taken out of tax altogether.
He said: "So to spin it as a tax on the poor is really not right and is not made out by the figures."
Mr Jones also defended the idea of regional pay.
He said: "You have to have regard on the impact on the economy as a whole. I think there's no doubt that the cost of living in Denbigh is considerably lower than in Dulwich - I think even teachers in Denbigh will agree with that.
"A standard of rate of pay has a distorting effect upon private enterprise it also has a distorting effect on the public sector."
"If, for example, the Welsh government doesn't like the policy, in those sectors where it is itself the employer, it doesn't have to adopt it.
'Beneficial'
"But if it wants to make Wales a vibrant place for people to come and set up businesses and to work, it's got to look seriously at this issue."
The Institute for Fiscal Studies think-tank estimates that people in Wales working for the state earn 18% more than they would at a private business.
Also on Wednesday, the Office for National Statistics published figures showing the median annual income for Welsh public sector workers was £21,258 last year - 19% more than the private sector figure of £17,177.
The Budget also cut the top rate of tax by 5p and lifted the threshold at which people pay income tax - a move that will take an additional 42,000 people out of paying income tax altogether, the UK government says.
Among other measures highlighted as beneficial to Wales were:
An extra £11.7m for the Welsh government - which has an annual budget of more than £14bn - over the next three years as a result of spending changes in Whitehall.
Mobile phone coverage will be improved along the A470 between Llandudno and Cardiff.
Cardiff will get funding of £12m to deliver ultra-fast broadband.
Child benefit will be withdrawn from people earning more than £50,000, instead of £43,000 as originally intended. It means 21,000 families will keep the benefit.
Businesses in an enterprise zone in Deeside, north Wales, will be able to write off the cost of plant and machinery against tax.