Welsh government promises quicker information responses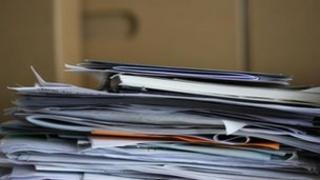 The Welsh government has been criticised over the way it handles freedom of information requests.
The Information Commissioner said he was concerned the Welsh government might not be meeting its responsibilities under the Freedom of Information Act.
It has signed an undertaking which promises staff will be trained and familiar with the Act.
The Welsh government said it was committed to maximising openness.
It is one of six public authorities pledging to speed up their responses.
The Welsh government has also agreed to devote sufficient resources to handling requests in an effort to answer them on time.
Bodies subject to the Act have 20 working days to respond to requests to provide information.
Monitoring exercise
Information commissioner Christopher Graham contacted the Welsh government over the "timeliness of its handling of requests" last March.
He monitored its handling of requests because of concerns that it was not "displaying satisfactory performance".
But he has stopped short of using his powers to issue a practice recommendation or enforcement notice, provided the Welsh government sticks to its undertaking.
Signed by Permanent Secretary Dame Gil Morgan, it says the government needs to "take steps to ensure that requests for information are dealt with appropriately".
Mr Graham said: "I am delighted that once again the monitoring exercise has resulted in two-thirds of the monitored authorities improving their timeliness in responding to requests.
"However, six authorities fell below the required standard and have been told to make changes or risk formal enforcement action."
The other authorities signing undertakings were Kent County Council, Cornwall Council, East Lancashire NHS Trust, Nottingham City Council and North Somerset Council.
The Ministry of Defence and the Cabinet Office were praised for improving their performance so that 85% of information requests are dealt with on time.
A Welsh government spokesman said: "We have a longstanding commitment to maximising openness and transparency.
"During the monitoring period we responded to 83% of requests within the statutory deadline. This is slightly below the ICO's [Information Commissioner's Office] minimum standard of 85%.
"We welcome the opportunity to make a public commitment to compliance with the Freedom of Information Act."
Liberal Democrat AM Peter Black said he was not surprised by the rebuke for the Welsh government.
"We have cases where we have had to battle with the Welsh government for information we feel should be in the public interest," he said.