Silk Commission: Bourne 'very confident' over tax proposals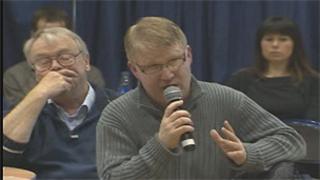 The Conservative member of a commission considering whether the Welsh government should gain tax or borrowing powers is "very confident" its proposals will be implemented.
Nick Bourne was speaking at the first of a series of Silk Commission public events.
Commission members were upbeat despite only 11 people turning up in Swansea.
Those there generally backed the Welsh government being able to vary some taxes.
One member of the audience said it was "absurd" that town councils had such powers but a "national government doesn't".
Another suggested "differential taxes for different industries could well attract money making individuals and industries to Wales".
Leonard Hock was concerned that if the Welsh government raised a particular tax level Wales would end up no better off.
"If they raise £10 from that tax, the [UK] government say 'oh, we'll give you £10 less from that tax," he said.
Asked how sure he was that the commission's recommendations would be implemented, Mr Bourne said he was "very confident".
"Obviously we've got to make sure we've got some coherent recommendations, and we're obviously bearing in mind what sort of timescale is appropriate and so on.
"But I'm very, very confident that the [UK] government is keen that we come up with coherent proposals within those terms of reference, keeping the UK together but doing what's best for Wales," he said.
Commission chairman Paul Silk said it was "very important" that the commission gave people "all over Wales" opportunities to give their views.
He said the public could "either come along to one of these events, or getting involved through the internet, through our web forum, or sending in one of the questionnaires or whatever it is".
The recommendations on devolving some taxes and borrowing powers are to be published due this autumn, before the commission goes on to consider the constitutional settlement.