Leanne Wood: Wales will be independent within my lifetime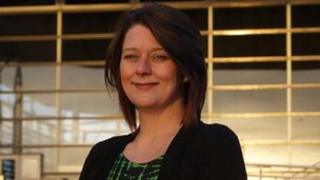 Plaid Cymru's new leader says she expects to see an independent Wales in her lifetime.
A referendum on Scottish independence is planned for 2014, and this month a BBC Wales poll suggested support for Welsh independence was at 7%.
Leanne Wood was named party leader on Thursday after beating rivals Lord Elis-Thomas and Elin Jones in what her supporters said was a decisive victory.
"I think the situation in the UK is changing," she told BBC Radio Wales.
"We will await with interest the outcome of the referendum in Scotland, but if people in Scotland vote yes, the United Kingdom will no longer exist, and then we as Wales will need to decide where we want to go.
Coalfields
"I want Plaid to be ready and participate in that debate, and we've got some work to do before we're ready to get there yet."
One of Ms Wood's key allies said Plaid Cymru's new leader will adopt a "more aggressive" stance towards Labour.
Plaid MP Jonathan Edwards said she could appeal to voters across Wales, not just in Plaid's traditional heartlands.
He told BBC Wales that Plaid had to defeat Labour in its heartland areas such as the south Wales Valleys.
Ms Wood last year published policy proposals for the former coalfields in what she called a "Greenprint for the Valleys".
Mr Edwards suggested her background as a Welsh-learner from the Rhondda would work in her favour.