Monmouth MP loses his Sport Relief crown at Westminster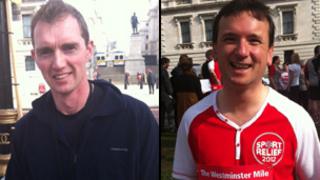 It is hard to think of a more disappointed runner-up in sport or politics.
The expression on David Davies's face this lunchtime owed more to Sebastian Coe after the 800m at the Moscow Olympics than the fixed smile of David Miliband after the Labour leadership election.
The Monmouth MP had just come second in the Sports Relief Westminster Mile, a race among MPs in St James's Park (the one in London, not the rebranded version in Newcastle).
Davies managed a highly respectable five minutes, 36 seconds, but finished 8 seconds behind fellow Tory George Eustice.
To make things worse, Eustice sliced a second off the course records held by, you've guessed it, David Davies.
Culture secretary Jeremy Hunt was third in five minutes, 45 seconds.
Others flying the flag for Wales included Paralympic champion Lady Grey-Thompson (on a not very suitable terrain) and Vale of Glamorgan MP Alun Cairns.
Cairns finished around a minute behind the winner but injury problems have hampered his training. He hopes they'll clear up before next month's London Marathon.
All beat Prince Harry's time of eight minutes and 32 seconds, when he ran the Sport Relief mile in Rio last week.
Jeremy Hunt admitted Prince Harry had the disadvantage of "a thousand Brazilian girls tugging at him" during his mile - not a problem that affected the MPs running today.