Bridgend MP Madeleine Moon queries police suicide training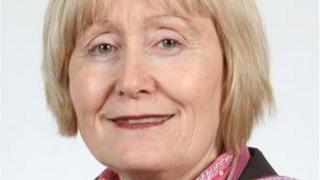 Training for police officers to deal with suicides is inadequate, claims a Welsh MP.
Madeleine Moon queried how officers dealt with bereaved families and how they investigated suicides, especially if the internet was a factor.
Ms Moon, whose Bridgend constituency experienced a number of suicides among young people over a two year period, addressed a Westminster Hall debate.
UK policing minister Nick Herbert said the issue was taken very seriously.
Ms Moon said the majority of bereaved families who had to deal with the police found the experience very distressing.
Some said it would have been helpful to have a counsellor present when dealing with the police officers, said the Labour MP.
Families also complained that police officers did not offer any numbers for help lines, or offer the Help is at Hand booklet aimed at people bereaved by suicide and other sudden, traumatic death.
'Response plan'
"This booklet, issued by the Department of Health, is a valuable resource that is wasted," said Ms Moon.
The MP asked the minister to look at the training for officers and at whether there was an "immediate response plan" in place.
She said she was concerned that the police did not thoroughly investigate whether the internet was a cause of suicide in some cases.
Ms Moon claimed the police had decided not to inspect individual computers, making it difficult to know how much influence the internet may have on a person's decision to commit suicide.
She said police officers should investigate individual computers and the sites visited.
Ms Moon also raised the issue of the media using the internet to access images of and information about a suicide victim.
'Mandatory training'
Families had said they were very distressed when a newspaper used an image from Facebook and other social networking websites without asking their permission, she said.
Mr Herbert, Minister of State for Policing and Criminal Justice, said that training on how to deal with sudden deaths and suicides was mandatory and was given to all police officers.
The minister stressed that the government did take the issue of suicide very seriously and had completed a consultation on it at the end of last year.
The findings of the consultation would be published later this year, he said.
Mr Herbert added that the author of any website that encouraged suicide may be committing an offence.
"Our ambition is the same - to improve the service," he said. "But it may not be appropriate in some cases to give national government guidance."
More than 20 young people apparently took their own lives in the Bridgend county between 2007 and 2009.