Carwyn Jones US mission: 'Wales is open for business'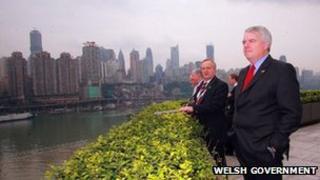 First Minister Carwyn Jones says he will tell the United States' tourism, defence, car and life science industries that Wales is "open for business".
Mr Jones has meetings in New York and Washington during a five-day visit starting on Wednesday.
He said Wales must "sell" itself to foreign investors.
It follows two reports which criticised Wales' recent record on attracting inward investment.
Speaking before his departure, Mr Jones said: "We have to make sure that we sell ourselves to the world and we tell the world that Wales is a great place to invest in."
He denied Wales had an image problem abroad, citing the "tremendous success" of the 2010 Ryder Cup at Newport's Celtic Manor resort.
"What we need to do of course is make sure that we continue to have a presence in important countries, such as the US, such as China, such as India," he said.
"If we don't do it then of course they'll take no interest in us."
The Welsh government says some 210 companies in Wales are either US headquartered or owned, employing about 30,000 people.
In a report last month, MPs on the Commons' Welsh Affairs Committee said investment opportunities had been missed since the Welsh Development Agency (WDA) was scrapped in 2006.
An earlier study by Cardiff Business School said Wales was lagging behind almost every other part of the UK in attracting foreign companies and jobs.
Mr Jones said the Welsh government - which has an office in New York - needed a presence overseas to help attract investment and create jobs.
Negotiations are under way about opening a Chinese consulate in Wales.
Summer's riots
Mr Jones said Welsh universities had established research links with China after his visit to the country last October.
Following his visit, he wrote to the prime minister to complain that he had encountered "negative perceptions" of the UK in the wake of last summer's riots in England.
He also said there was an impression that the country's economic strategy "is based on cuts rather than growth".
He will fly out to India in April, leading a trade mission to Mumbai and Bangalore.