How Welsh councils work closer together to save money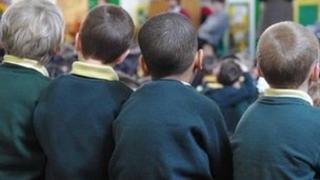 The 22 local authorities in Wales are responsible for keeping schools running, parks and green areas clean and tidy, emptying the bins and recycling.
But that all comes at a cost.
Sixteen years after they were created, each one is under more pressure than ever to provide quality services with less money.
To ease that pressure, there is a growing emphasis on collaboration.
In the next few years, the pace and scope of partnership working in priority areas like education, housing, social services and transport will increase.
Ysgol Gyfun Gwynllyw in Trevethin, near Pontypool, Torfaen, is a good example of where collaboration is benefiting pupils, teachers and the wider community.
The Welsh-medium comprehensive school has taught pupils from across the area for more than 20 years.
But since 2007, the four authorities that send pupils there - Torfaen, Newport, Monmouthshire and Blaenau Gwent - have joined forces with the Welsh government to invest millions of pounds in refurbishing and expanding the school.
One building is complete and another, which will provide new facilities for technology, music and art as well as a new refectory, will be completed later this year.
Head teacher Ellis Griffiths believes the project would never have happened without the financial collaboration. He says it has brought wider benefits too.
"Not only have we had the financial contribution, we've also developed closer links with all the authorities and the school, so that all the officers of the different authorities now visit the school and are working in partnership with the senior team and pupils and staff and that's had a significant improved effect," said Mr Griffiths.
'Big difference'
"Particularly when issues arise like transport, or the need for places in Welsh-medium education, it has made a big difference.
Collaboration is nothing new, according to Chris Llewelyn, the director of lifelong learning at the Welsh Local Government Association (WLGA).
"There is criticism about the fact there are 22 local authorities," said Mr Llewelyn.
"Many observers say that 22 is too many, that it's a waste of resources and there's duplication. But the reality is the 22 authorities work together across a range of different services that collaborate in innumerable areas.
"Specifically within education there are a large number of collaborative initiatives in place."
"I suspect there is more collaboration and co-ordination than members of the public would appreciate, but often the mundane characteristics of service delivery don't interest people.
"What they're interested in is the service they actually get."
He said the main priority was using resources effectively, while improving the quality of provision in schools, and the performance of authorities that are not doing as well as they should.
One area where councils will work more closely together in the coming months is school improvement.
Many authorities have already clustered together regionally, to form four "consortia" but from September they will be in charge of improving schools.
"There is a step change taking place over next few months," according to Mr Llewelyn.
"By September this year we'll have four shared school improvement services residing within those four education consortia and I think there is a growing awareness that this is happening.
"The expectation then is that we'll gradually see more and more services, as appropriate, coming into those consortia."
Of course it is not just in education that authorities are working in partnership. Conwy and Denbighshire councils are collaborating in areas like planning, where they share experts.
Small teams merge
They have also put one man in charge of roads in both authorities.
Jason Weyman, chair of the Partnerships Scrutiny Committee on Conwy council, said: "We have a joint head of service for highways in Conwy and Denbighshire.
"What we've been looking at over the last few years is how we can move on from just having a head of service with two different departments and teams, and look at how we can share those resources."
"So some small teams have been merged together, such as street lighting. When there's an opportunity where vacancies arise, rather than recruit new vacancies into those positions, the department looks at whether or not it makes sense to merge those teams together and form one team with hopefully less staff, saving both authorities money but still delivering the same quality of service."
"We want to maintain our independence and our concentration on Conwy, but we need to make sure we get the best value for money for the council tax payer."
"Sometimes that means we have to look at different ways of working.
"When we've got two very close councils and areas, Denbighshire and Conwy are very similar in scale and demographics, then it makes sense to see where we can work together to the benefit of everybody."