Jones seeks constitutional commission on 'looser UK'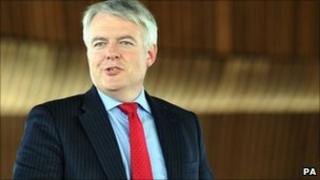 Carwyn Jones has written to the prime minister asking for a commission to look at the constitution of a "looser UK".
Devolution had created "multiple centres of democratic accountability", the first minister said.
It comes as a BBC poll found strong support for devolving some tax-varying powers.
He also revealed the Welsh government had signed a lease on offices in London.
Mr Jones said: "It's important that we get the constitution right in order, to my mind, to preserve the United Kingdom for good part for the century to come.
"I believe there is a case for reforming the UK's central institutions to reflect the reality of a looser UK with multiple centres of democratic accountability.
'Difficult questions'
"These are difficult questions, that's true. But that's not a reason to avoid them."
He stressed his firm belief in the unity of the UK, "but I also believe the UK has to adapt for the 21st Century".
He said the creation of a written constitution - a possible question for the commission he proposed - was "inevitable".
"We have historically had an unwritten constitution. I am not sure that will work in years to come," he said.
It was not right that parliament retained the power to wind up the Welsh assembly or Scottish parliament, he told reporters at his monthly press conference in Cardiff Bay on Thursday.
Meanwhile in Westminster, a Labour MP said plans to reduce the number of Welsh MPs by 25% "shames" the UK government.
Torfaen MP Paul Murphy said the proposal was depressing and unforgivable.
"It is a false, pernicious and appalling policy that has led us down that line," he added.
Speaking in a St David's Day debate, the former Welsh secretary said Welsh MPs should continue to vote on bills affecting only the English NHS because some patients cross the border for treatment.
But Tory MP David Davies, who chairs the Welsh Affairs Select Committee, accused him of a "fallacious argument".
"Members representing English constituents treated in Wales have absolutely no say over how their constituents are affected," he said.
'Open for business'
The Welsh government's London office is due to be up and running by the summer.
Mr Jones will travel to the US next week and to India in April with a message that "Wales is open for business."
And he said the Welsh government wanted to take control of the Severn bridges when the private contract on them runs out.
Although it would not scrap the tolls, the Welsh government might be able to reduce them if it was in control, he said.