Language strategy to encourage everyday use of Welsh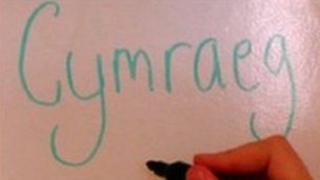 People should not be put off speaking Welsh if their grasp of the language is less than perfect, a new strategy says.
Attempts to encourage people to speak Welsh in their everyday life are at the centre of the Welsh government's plans.
It calls for more opportunities for people to use Welsh socially and at work.
The minister responsible said it was time to "breathe new life into the language".
Education Minister Leighton Andrews said he also wanted parents to speak Welsh to their children.
Young people will be encouraged to use Welsh on social media when they go online,the strategy says.
The strategy says the language has been sustained by dedicated individuals, but its future depends on a wider commitment.
'Protection'
"Its protection cannot depend on those who are professionally employed in its development or promotion," Mr Andrews said.
"We must also ensure that we are encouraging people to use the language skills that they have - and not to contribute to a climate in which they feel that less than perfect Welsh language skills are a barrier to participation."
The strategy cites a lack of confidence among non-fluent speakers as a reason for a low uptake of services that are available in Welsh.
A report last moth said the number of fluent Welsh speakers was falling by around 3,000 people a year.
The Welsh Language Board (WLB) said deaths and people moving from Wales had the biggest impact.
The board is being wound up and replaced by a commissioner with the power to impose duties to use Welsh on a range of bodies, including public services and utilities firms.
Plaid Cymru said the strategy was a step forward.
Its Welsh language spokeswoman Bethan Jenkins said it must be easier for Welsh speakers to access services in Welsh.
"That can only have positive consequences for the status of the Welsh language in society, and I look forward to seeing Wales enjoy the benefits," she said.
The strategy adds that Welsh speakers should be able to "conduct their lives electronically" if they want.
Banks, retailers and mobile phone companies will be encouraged to offer applications in Welsh.
First Minister Carwyn Jones said: "We need to provide more opportunities for children and young people to use the Welsh language outside school."
Cymdeithas yr Iaith Gymraeg (The Welsh Language Society) said resources and political will were needed to make the strategy work.
Its chair, Bethan Williams, said: "The Welsh language is endangered in its communities: statistics suggest that the language is at crisis point.
"Radical action is needed in order to transform this situation."