Benefit reform 'could put 6,000 children into poverty'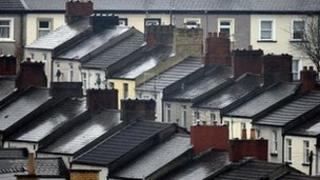 The number of cases of child poverty in Wales will increase by 6,000 next year as a result of changes to the tax and benefits system, the Welsh government estimates.
It says it has "grave concerns" about welfare changes being introduced in Westminster.
It comes on the day that charities warned "the vast majority" of benefits claimants will see their incomes cut.
The UK government said its reforms would "restore fairness" to the system.
Welsh Conservatives said dependency on welfare was "ingrained" in some communities.
In a statement, Education Minister Leighton Andrews revealed the findings of ananalysis by the Welsh government into the impact of the changes.
He said Wales was more dependent on welfare benefits than Britain as a whole: 18.4% of the working-age population claim welfare benefits, compared to a British average of 14.5%.
The main reason for the higher claimant rate is the higher proportion of people on disability and sickness benefits.
The Welsh government provisionally estimates that the reforms could increase the cases of relative child poverty in Wales by around 6,000 in 2012-13.
The proportion of poor children fell between 1997 and 2003 to 28%,but has since risen to 33%- about 200,000. This compares to 30% for the UK. Poverty is classed as living on less than 60% of the median income.
Mr Andrews said: "The Welsh government is not opposed to the principle of welfare reform.
"We would welcome a simpler, more transparent benefit system that makes work pay; and provides genuine support to individuals to help them find and keep work.
"But as I have previously said, the power to create jobs does not generally lie with the unemployed."
'Cliff edge'
Also on Tuesday, a coalition of charities warned tens of thousands of people in Wales "are unwittingly standing on the edge of a cliff" because of impending reforms to welfare.
Areportby the Cuts Watch Cymru says people on out-of-work benefit will face "tough sanctions" if they do not look for work at a time when unemployment is already high.
It says: "People in Wales face the toughest challenge to their well-being for decades from a combination of economic crisis, job losses, a squeeze on earnings and rising prices."
The UK government has lost votes in the House of Lords as its reforms, which include capping benefits at £26,000 a year per household, make their way through parliament.
A Department for Work and Pensions spokeswoman said: "Our reforms will restore fairness to a welfare system that just isn't working, while ensuring that those who really need support will always get it.
"Just about everyone accepts that work is the best route to a better future, rather than a life on benefits, and through the introduction of Universal Credit we're ensuring that work will always pay - lifting 350,000 children and 550,000 adults out of poverty in the process.
"People who are too sick or disabled to work will continue to receive our unconditional support, while those who are able to work will get specialist employment support through the Work Programme."
Speaking before Mr Andrews's statement, Conservative assembly group leader Andrew RT Davies said: "What the reforms need to achieve is to break a cycle of welfare dependency that has ingrained itself in many communities across the whole of the United Kingdom and in particular communities here in Wales."
The system should "support the vulnerable... but obviously offers a route back into an active and participant role in our society".