Carwyn Jones hails 'real benefits' of EU membership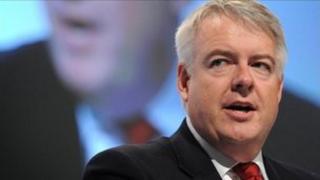 Carwyn Jones has hailed the benefits of Wales' membership of the EU during a visit to Brussels.
The first minister was due to discuss funding to Wales when he met European Commission officials on Monday.
The Welsh government said a "vibrant" EU was vital and that it wanted to be an "active and constructive partner".
But the Welsh Conservatives have criticised him, saying he should concentrate on spending the European funding Wales receives.
Mr Jones said businesses were kept afloat and thousands of jobs protected by the more than £350m of subsidies Wales receives every year through the Common Agricultural Policies.
The billions of pounds of EU structural funds paid to Wales made a "huge contribution", particularly during the down turn, he added.
It is his first visit to Brussels since Prime Minister David Cameron vetoed EU treaty changes last year.
At the time Mr Jones said the decision had left Wales on the "sidelines", but he has since said he "probably" would have done the same as Mr Cameron.
He told AMs in the Senedd chamber last month: "The decision was probably right, but the reasons were wrong."
Speaking ahead of his visit, where he will host a St David's Day reception to promote Welsh goods, Mr Jones said: "I am deeply committed to maintaining and growing Wales' relationship with Europe and that is why I am here to take this message to the heart of the EU.
"The harsh rhetoric of the critics of the EU often drowns out the benefits of membership.
"I have no doubt that communities across Wales see real benefits from our relationship with Europe."
The Tories' assembly opposition leader, Andrew RT Davies, said: "The first minister appears to say one thing about the EU in the Senedd and very different things when he's in Europe.
"Wales has had records levels of European funding in recent years.
"The first minister should be concentrating his time on using this funding effectively, creating a dynamic trading relationship with our EU partners and developing a growth strategy rather than going to Brussels full of empty words and tired rhetoric about Europe."