Breast implants: Welsh government receives 180 referrals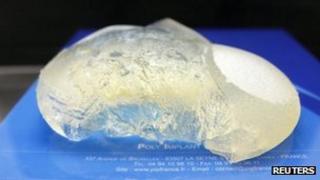 The Welsh government has received 180 referrals from women living in Wales who have been affected by faulty PIP breast implants.
All of the patients where the provider is known received their implants privately outside Wales.
Last month, the Welsh government agreed to pay to replace the banned breast implants for those treated privately if there is a clinical need.
However, there is no known use of PIP implants for patients treated in Wales.
The referrals have been made by the seven local health boards in Wales.
Precautionary measure
Women must prove they sought redress from their private provider and be resident and registered with a GP in Wales.
Health Minister Lesley Griffiths said not replacing implants could pose unnecessary risk.
The implants from French firm Poly Implant Prothese (PIP) were banned last year after they were found to contain a non-medical-grade silicone filler.
In December, French authorities recommended that 30,000 women have faulty breast implants removed as a precaution.
Around 2,000 women in Wales are estimated to have the implants.
The figures, which come from the Welsh Health Specialised Services Committee, cover the period 6 January to 24 February.