Awema: Ministers want money back as opposition allege 'stonewall'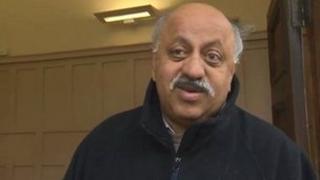 The Welsh government has written to a race equality charity to try to reclaim any public money.
It comes as opposition AMs accused ministers of failing to answer questions about the All Wales Ethnic Minority Association (Awema).
Welsh Conservative assembly leader Andrew RT Davies said ministers had chosen to "stonewall".
But Finance Minister Jane Hutt said the government had "acted quickly".
Awema is being wound up after a report into allegations of financial irregularities.
Funding was cut off earlier this month when a Welsh government inquiry found a "complete lack of oversight of the financial processes and controls" at Awema. The findings are being considered by police.
Awema chief executive Naz Malik and finance director Saquib Zia have been dismissed and administrators have been called in.
During a debate in the Senedd chamber on Wednesday, opposition AMs highlighted repeated warnings about the way Awema was being run.
A former Plaid Cymru AM has said he passed on concerns about Awema to ministers in the last assembly.
In 2007, Awema's then chairman resigned after complaining to the Welsh government about the way the charity was run.
And three years earlier a report said Awema should receive no further funding until it demonstrated improved project and performance management.
Accusing the government of failing to scrutinise the charity, Liberal Democrat AM Peter Black said: "The government has serious questions to ask of its own links with Awema."
He referred to the suspension from the Labour Party of Mr Malik and his daughter Tegwen, who also worked for Awema.
A Labour Party spokesman told BBC Wales they have both since resigned as members.
'Compromise scrutiny'
Mr Black asked: "Can the minister stand here today and assure us that she and her colleagues - who we believe have repeatedly failed in their approach to Awema - have acted appropriately at all stages?
"That individual relationships with Awema members did not compromise the scrutiny of that body?
"That blind eyes were not turned to awkward conversations?"
Mr Davies said: "It is regrettable that the government have chosen to stonewall so much on this, and in particular they have addressed it via a written statement rather than an oral statement."
Ms Hutt defended the government's actions, saying it "acted quickly" when the latest allegations about Awema were brought to its attention in December.
She said this month's report prompted "decisive action", with funding terminated.
"A letter has gone to Awema today to protect our interest and stating a claim in respect of funding that they currently hold," she told AMs.
She added that a separate investigation by the Wales Audit Office (WAO) "will look at how the Welsh government has managed its relationship with Awema to protect and make good use of public funds".
"It is not appropriate for me to prejudice the WAO review by commenting on issues relating to the Welsh government's funding of Awema historically."
Government officials are in touch with South Wales Police's head of specialist crime who is considering whether there is evidence of criminal offences.
She said it was a "situation of great concern where of course there are lessons to be learned".