Welsh Labour conference: Carwyn Jones appeals to Plaid voters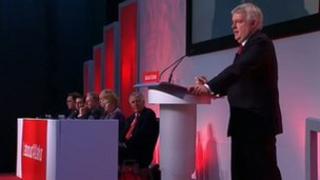 First Minister Carwyn Jones has reached out to Plaid Cymru supporters, saying they "deserve better".
He told the Welsh Labour conference that voters had "come home to Labour" at last May's assembly election.
Mr Jones also said the NHS had to "continue changing and improving" - a nod to potentially difficult changes to hospital services.
The first minister criticised "shameless" opponents who protested before decisions had been taken.
Mr Jones told delegates in Cardiff that in the past their party may have been "too reticent to remind people that Labour is the only true party of Wales".
Facing challenges
He said Plaid had become a "protest group" since last year's election when the two parties' coalition in the assembly came to an end and Labour was re-elected to a fourth term.
"They (Plaid) are in their comfort zone when they're waving placards. But Plaid voters surely expect and deserve better," he said.
"If you voted Plaid, but know as I do that independence is bad for Wales, then Welsh Labour is your party."
Mr Jones attacked the UK government's policies on the NHS in England, pledging that the "forces of marketisation and privatisation of the NHS will stop at the border".
But the Welsh health service faced its own challenges, he said.
Local health boards have been asked to submit plans for changing the services they offer.
The head of the NHS in Wales has said patient safety could be compromised if hospital reforms are not driven through.
This month, Health Minister Lesley Griffiths was forced to intervene to try to defuse tension between Hywel Dda local health board and doctors at Aberystwyth's Bronglais Hospital.
Mr Jones told delegates: "If the NHS in Wales is to continue to receive the support of patients and the public alike then it has to continue changing and improving."
'Shameless opportunism'
Health professionals - "the people making life and death decisions" - had to be listened to "when it comes to delivering safe and improved healthcare across Wales", the first minister said.
"We hear the quite shameless political opportunism of some of our opponents at the moment - trying to whip people up into a fervour about what local health boards might or might not do when no decisions have actually been made," he said.
"If ever we needed proof that we are taking the NHS in the right direction here in Wales we only have to look at what is currently happening in England."
The presence of the Conservative-Liberal Democrat coalition in Westminster and the SNP government in Edinburgh leaves Mr Jones as the Labour politician with the most senior governing role in the UK.
He said his Welsh Labour administration had to provide an example to the rest of the country and an alternative to the UK government's policies.
"We're able to show colleagues in other parts of the UK that with ideas, a vision and a determination to protect our most vulnerable, Labour can win," he said.
"We must not squander this moment. We have to seize it for all its worth."
Earlier, Labour leader Ed Miliband praised his Welsh party for demonstrating an alternative to the policies of the coalition government in Westminster.
He told delegates that Labour was "governing in its own right once again", and repeated his call for "responsible capitalism", saying the economy must be made to work for everyone.