Awema: Darren Millar renews call for police inquiry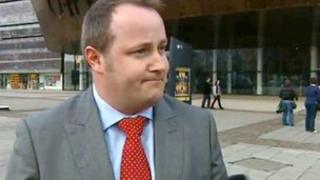 Renewed calls have been made for police to investigate allegations of financial corruption at a race relations charity.
Chief executive Naz Malik and finance director Saquib Zia were sacked by the All Wales Ethnic Minority Association (Awema) on Friday.
An administrator is to wind up the charity whose funding was halted by the Welsh government over a damning report.
Public Accounts Committee chair Darren Millar said he felt police needed to step in and examine the situation.
"The fact these two gentlemen no longer work for the organisation is not the end of the story for Awema," he told BBC Radio Wales.
"There are still questions to be asked about the Welsh government's oversight of the public money that was given to this organisation.
"There are still questions to why they didn't act eight years ago when similar allegations were made and of course there are questions to be asked about the links to the Labour party between Awema and individual ministers."
Finance Minister Jane Hutt said the government had taken "decisive action" by terminating public funding for Awema in the wake of the latest report.
A statement on the Awema website by its chair Dr Rita Austin said an administrator would also be appointed to take control of Awema's business and assets from the charity trustees, and close the business following the loss of funding.
The Charity Commission have launched a statutory inquiry into Awema.
"I think it's right that this is the end of the road for Awema," Conservative AM Mr Millar added.
"I'm pleased that the trustees have appointed an administrator to wrap the organisation up, but it's certainly not the end of it.
'Lack of oversight'
"We're going to see another report from the Wales Audit Office once they've finished their work.
"I hope very much the police will step in and of course there will be a publication of a report by the Charity Commission into the governance arrangements there and why the trustees didn't act perhaps more swiftly when allegations were first made eight years ago - and of course more recently in December."
The report into Awema had said there was a "complete lack of oversight of the financial processes and controls" by Mr Malik.
It said charity funds were used to pay for gym memberships for staff worth £2,120, £800 worth of rugby and cricket tickets, and a £110 parking fine for Mr Malik.
It also said there was a "clear conflict of interest" because one of the charity's directors reporting to Mr Malik was his daughter Tegwen. There were "considerable increases" in her salary from £20,469 to £50,052.
An earlier report, commissioned by the charity's trustees, had said Mr Malik used funds inappropriately and paid off credit card debts worth £9,340.
It also alleged that his salary was increased to £65,719 without approval from the board.