Call for info on lobbyist meetings with Welsh ministers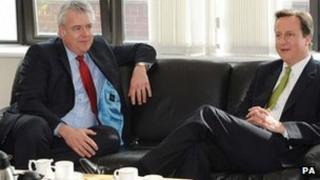 The three opposition parties in the Assembly are calling on the Welsh government to publish details of its meetings with lobbyists.
The UK government already does this and is now considering a legal register of those seeking to influence ministers.
The Liberal Democrats have urged the Welsh government to show some "leadership" and draw up a list.
Ministers said they would look at guidelines from London and decide if there was any merit in a Welsh version.
Lobbyists argue they play a vital role in improving policy and legislation but their critics claim they are hired by companies to exert an unhealthy influence on the political process.
Prime Minister David Cameron has described lobbying as "the next big scandal" and the UK government is consulting on whether the current voluntary system should be replaced by a legally binding register.
There are questions over whether the trade unions and charities should be included, and whether the amount companies spend on lobbying should be revealed.
The UK government is also asking whether any new register should cover those lobbying the devolved governments and bodies including the Welsh assembly.
Peter Facey from the campaign group Unlock Democracy, said: "This is not just about Westminster - we need to actually have a proper debate across the whole of the United Kingdom about how we do this in a way that encourages people to be involved in the democratic process but ensures that it is open and transparent."
At the moment, the UK government publishes an online list of all meetings its ministers have with lobbyists.
The Welsh government currently sets its own rules but has not published any similar list in Wales.
All three opposition parties told the BBC Wales political programme Dragon's Eye that the Welsh government must publish details of its meetings with lobbyists and set-up a register.
Lib Dem AM Eluned Parrott, said: "If you have nothing to hide, let us see what is going on behind the closed doors in the Welsh government.
"If you have nothing to hide then you have nothing to fear so go ahead and publish these meetings, show us who you're meeting, let's get this register set up and let's see some leadership on this issue".
Bethan Jenkins, Plaid Cymru AM added: "I certainly think there should be a register of lobbyists in Wales so everything is above board and transparent. I also think there is a legitimate reason why government ministers should record formal meetings they have with lobbyists."
Nick Ramsay AM, chair of the Conservative group in the assembly, said it goes back to the issue of transparency. "It's supposed to be a transparent democracy, what has the government got to hide?"
But former Conservative AM Jonathan Morgan, now working as a lobbyist, said there was no need for compulsion.
"We live in a very small country," he said.
"Wales is tiny, and I think if there were ever any public affairs officers or public affairs companies that were engaged in dodgy dealings then they'd be found out pretty quickly.
"So I think we've got a very good self-regulatory system."
The Welsh government said Welsh ministers were subject to the ministerial code, the principles of which were virtually identicial to the code which applies in Westminister.
A spokesperson added: "We would therefore carefully consider any new or revised guidelines produced by the UK government in relation to lobbying if we thought there was merit in applying it - or a version of it - here in Wales."