Policy institute to guide reform of public services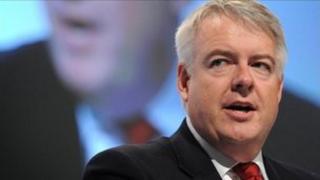 First Minister Carwyn Jones is to announce plans for a policy institute to come up with ideas on improving public services.
He will say the body would operate at arm's length from the Welsh government and would not intrude on the work of independent think-tanks.
In a speech, Mr Jones will reaffirm his stance that there is no place for competition in public services.
Services must share staff, equipment and offices, he will say.
He will tell a conference in Cardiff that ministers and officials must have access to the best ideas from around the world.
"I think we need to strengthen the capacity to do this and that is why I've committed to developing a Welsh Institute for Public Policy," he will say.
"I'm open to ideas as to how we do this.
"The institute should form a bridge between the Welsh government and the world of research and think tanks, to create a strong network of expertise and insight underpinned by a shared understanding of the problems and opportunities we face in Wales."
He will add: "It should be at arm's length from government but strongly connected to it, so that it can challenge thinking and influence delivery at the drawing board stage."
The body would not "crowd out" Welsh think-tanks such as the Bevan Foundation and the Institute of Welsh Affairs.
He will say the Welsh government's approach to the public sector is based on "collaboration, simplification and accountability".
Conservative assembly leader Andrew RT Davies said: "The first minister has let the cat out of the bag.
"Nine months after the election, Labour have been slow and lethargic in bringing forward any policy proposals because they are out of ideas.
"This is an admission that after 12 years of government, Labour is out of steam and ideas on public service reform."
Since the outset of devolution, successive Welsh governments have insisted the private sector will have no role in delivering public services.
Mr Jones will say "there is clear evidence that marketisation works against equality and social justice".
Reform and investment
Dr David Bailey, chairman of the British Medical Association's GP Committee for Wales, told BBC Radio Wales while he was not happy with the status quo, introducing the private sector "seems to me to be counter intuitive" because businesses expect to make a profit rather than investing all money back into services.
But he acknowledged a lot of improvement could be made in the way services are delivered.
Megan Mathias, programme director for think-tank Wales Public Services 2025, said some "big decisions" were needed, adding that the "long term challenge facing public services is even greater than the short term pain that we really feeling now".
She said: "The short term cuts are significant but if you look to 2025 and beyond the costs that are facing public services in terms of relentless costs from the aging population and inward migration and on-going economic slow growth, then we are facing more challenge than we are currently."
Mr Jones' comments follow an article by former foreign secretary David Miliband who said the NHS in Wales had not kept pace with England.
Writing in the New Statesman last week, he said reform and investment were crucial to improving the health service, adding: "Where reform was missing, in Scotland and Wales, the improvement was far slower."
On Wednesday, Prime Minister David Cameron launched an attack on Labour's handling of the health service in Wales.
The Welsh government said the prime minister's figures were "totally wrong".