Plaid leadership hopefuls give verdict on Tory deals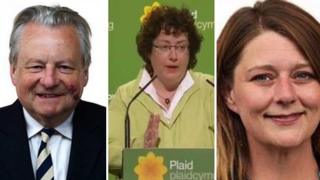 The three Plaid Cymru leadership candidates have spelled out where they stand on coalitions with the Conservatives.
Leanne Wood ruled out working with the Tories, saying that would help Plaid win support from Labour.
Lord Elis-Thomas said failing to rule out a pact with the Tories cost the party votes at last year's election.
Elin Jones pointed out that coalition deals were decided by the party's members, not its leader.
The three AMs are in the running to succeed Ieuan Wyn Jones, who is standing down after 10 years at the helm. The winner will be announced on 15 March.
Mr Jones led Plaid into coalition with Labour in 2007, but also negotiated a three-party-deal with the Conservatives and the Liberal Democrats.
A motion ruling out coalitions with the Conservatives was discussed by the party's annual conference last year, but it did not pass and the question was referred to the party's executive.
South Wales Central AM Ms Wood said: "Ruling out a coalition with the Tories would help us to convince those people who currently vote Labour that we are serious about their concerns.
'Break new ground'
"Unless we break new ground in areas where Labour currently polls well, we will not be able to become Wales's largest party."
Dwyfor Meirionnydd AM Lord Elis-Thomas said the only situation when he would consider talking to the Tories was if Labour lost its status as the biggest party.
He said: "I just don't understand the unwillingness at the last assembly election for the party to make it clear that under any circumstances that we would not work with the Conservatives."
Plaid slipped behind the Conservatives to become the third biggest party in the Senedd at last May's election.
Ceredigion AM Ms Jones said it was time to "end the Labour one-party state that Wales has become".
She added: "It is not the party leader who decides on coalition arrangements - it is the members of Plaid Cymru themselves who decide on the nature of our relationships with others.
"To that end, I find it totally inconceivable that party members would want anything to do with Andrew RT Davies' group."
Meanwhile, Plaid AM Alun Ffred Jones said he was backing Ms Jones. It gives her five endorsements from Plaid AMs and MPs, compared to three for Ms Wood. The votes of all party members will carry the same weight in the leadership election.