Carwyn Jones: Government has nothing to hide over Awema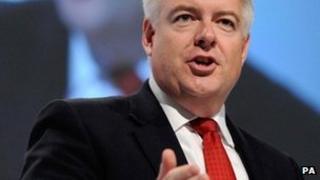 First Minister Carwyn Jones says the Welsh government has "nothing to hide" in the case of an under-fire race equality charity.
The Welsh government will reveal the findings of an investigation into the All Wales Ethnic Minority Association (Awema) on Thursday.
It follows allegations of financial irregularity at Awema.
Mr Jones said an earlier report into the Swansea-based charity, commissioned in 2003, would also be made public.
Awema's chair, Rita Austin, has defended the charity, saying media coverage of it was reminiscent of "a time honoured way of debasing and devaluing the contributions of black and minority ethnic people".
The Welsh government's permanent secretary Dame Gillian Morgan has said Awema should have been rated "high risk".
Welsh government funding to the organisation has been suspended.
Opposition Assembly Members have demanded ministers release the 2003 report, as well as the findings of the latest inquiry.
Public funding
Facing questions in the Senedd on Tuesday, Mr Jones said it was "not clear" whether the 2003 report had been published but it would be made public.
The government will hold a "lessons learned" inquiry, he said.
"Its findings will be made public, as will the 2003 report," he said.
Calling for the 2003 report to be published this week, Welsh Liberal Democrat leader Kirsty Williams asked: "What has your government got to hide?"
Mr Jones said: "We have nothing to hide before the people of Wales."
Finance Minister Jane Hutt said Thursday's report, which follows an investigation with the Big Lottery Fund, examined the way public funding had been spent and accounted for.
The findings are being shared with the Wales Audit Office, the Charity Commission and South Wales Police.
Mrs Hutt said the priority for this week's report was to "handle the current issues".
Asked if she was satisfied that the way the government distributed funding to third parties was robust, she said: "This is why we are undertaking this report into Awema, that we investigate and report fully and you will get that report on Thursday."
Lib Dem AM Peter Black has requested the 2003 report - commissioned by then Social Justice Minister Edwina Hart, now the enterprise minister - under the Freedom of Information Act.
He said: "Carwyn Jones and the Welsh government have always said how they want an open and transparent government.
"This is the perfect opportunity for the government to show their commitment by publishing this report."
'Transparent and accountable'
Plaid Cymru AM Rhodri Glyn Thomas said: "The big question is, is it a movement that can be trusted to distribute money in a way that is transparent and accountable?"
There may be scope to reform the charity, but the Welsh government had to ask whether it was "fit for purpose" in its present form, he said.
Dr Austin has said that suspending Mr Malik would have incurred great cost.
She says she submitted a serious incident report to the police and Charity Commission before Christmas.
Writing on the charity's website, she said a disciplinary panel into Mr Malik concluded there had been "a completely inappropriate advance of expenses payments, the balance of which the panel instructed had to be repaid the next day".
The matter was regarded as gross misconduct, Dr Austin said.
She said Mr Malik gave an "open and transparent declaration" and a written warning was placed on his record.
"Should any evidence emerge which contradicts the panel's view, the sanction will be reviewed. And of course, should the police think fit at any stage they will take their own enforcement action," she wrote.
Mr Malik was given an oral warning following allegations of unauthorised salary and pension benefits.
The panel saw evidence that all salary and pension benefits were approved by the charity's board, but there were occasions when Mr Malik was not documented as declaring an interest in relation to his close family members.
Darren Millar, chair of the assembly's public accounts committee, said suggesting that criticism of Awema was racially motivated - something Dr Austin denies she has done - was "a disgrace".
Mr Millar said: "Much of the criticism has come from the black and minority ethnic community themselves; it would be astonishing for them to be playing the race card against their own community."
The Conservative AM added: "People will wonder what they've [the Welsh government] got to hide by not coming forward and publishing that report.
"It's in everybody's interests that they are transparent about what's gone on in Awema and be honest if they haven't followed up criticism made in previous reports."
A report commissioned by Awema's trustees details allegations against the chief executive Naz Malik, including that he approved his own pay rise without authority.
Disciplinary inquiry
It recommended Mr Malik and his daughter Tegwen - who also works at the charity - should be "suspended immediately, pending a disciplinary inquiry and hearing".
Both remain in post having received a written and verbal warning.
Mr Malik, who also faces allegations of staff bullying, has declined to comment until investigations are concluded.
Welsh Tory leader Andrew RT Davies has sought assurances from the first minister that the investigation into Awema is not compromised by links between Mr Malik and the Labour Party.
Labour has accused the Tories of trying to "muddy the waters with smear and innuendo".