Leanne Wood: 'Plaid Cymru needs a unique selling point'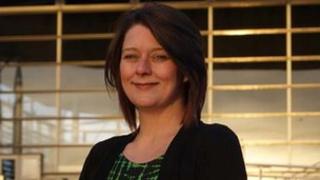 Leanne Wood is the final candidate in the Plaid Cymru leadership election to answer our questions.
The contest to succeed Ieuan Wyn Jones comes in the wake of a review commissioned by the party after last May's assembly election.
Led by Plaid policy adviser Eurfyl ap Gwilym, the review made more than 90 recommendations and covered everything from the performance of key politicians to the party's name.
We asked the four leadership candidates for their assessment and have been publishing them through the week.
Click to read the answers of Dafydd Elis-Thomas, and Elin Jones. A fourth candidate, Simon Thomas, was in the running, but has now withdrawn.
Q Why did Plaid go backwards at the last assembly election?
We had no unique selling point. Many of our short-term objectives had been realised.
We saw great success with cross-party support for the powers referendum, legislation to protect the language and for funding reform.
We did not offer "the next development". That's what we must work on now.
Q Is it true, as Eurfyl ap Gwilym says, that some Plaid candidates and spokespeople need to pull their socks up?
Yes - we all need to pull our socks up. May's result shows that we all have to accept that we have a lot of work to do. No member of Plaid Cymru is exempt from that.
Q How can Plaid strike the balance between calling for independence and avoid "appearing to be interested in constitutional matters only"?
By focusing on the economy and jobs in particular, we have to offer hope that Wales can be different - continuing on the downward economic spiral is not an option.
We must do something different, something radically different.
Of course, we seek constitutional independence for our nation, but we seek more than that, what Raymond Williams called "real independence" - genuinely working to end war, inequality and discrimination.
Q Do you expect to see an independent Wales in your lifetime?
Yes.
Q After years of trying to promote the party as representing everyone in Wales, why did the review find there was still a perception that you are perceived as the "Welsh-speaking party"?
I'm not sure and would like to see more evidence on this.
My view is that we can appeal to everyone in Wales with an economic plan.
The recession affects everyone, wherever they are, whatever language they speak. There is much more that unites people in Wales than divides us.
Plaid has to communicate with everyone who lives in Wales.
I'm proud that Plaid Cymru stands up for equality for Welsh speakers and we should never apologise for promoting our unique national language.
Q Should Plaid be called the Welsh National Party in English?
My feeling is no to this specific name change, but I am prepared to consider any evidence which suggests our current name is problematic.
There are substantial matters relating to politics that need to change as a result of this internal review. A name change alone would be a mere cosmetic change.