Simon Thomas: 'Plaid's message did not get through'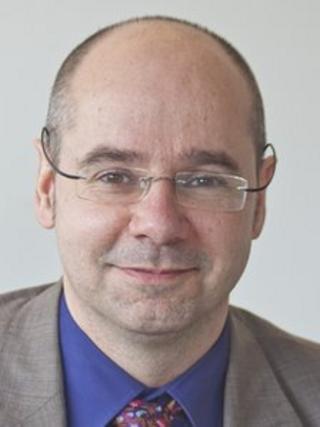 Simon Thomas is the third candidate in the Plaid Cymru leadership election to answer our questions.
He is one of four Plaid AMs vying to succeed Ieuan Wyn Jones.
The contest comes in the wake of a review commissioned by the party after last May's assembly election.
Led by Plaid policy adviser Eurfyl ap Gwilym, the review made more than 90 recommendations and covered everything from the performance of key politicians to the party's name.
We have asked the four leadership candidates for their assessment, and they will all be published in coming days.
Click to read the answers of Dafydd Elis-Thomas and Elin Jones and Leanne Wood.
Q Why did Plaid go backwards at the last assembly election?
Clearly our message was not getting through. It was confused. We did not do enough to celebrate our success in government nor to demonstrate our ambition for a more prosperous, more independent Wales. We did not promote a strong enough economic message.
We allowed other parties to take over part of our core position of standing up for Wales.
Since then they have failed to halt the harsh ideology coming from Westminster and the time is ripe for Plaid Cymru to refocus its message and campaign like never before.
Q Is it true, as Eurfyl ap Gwilym says, that some Plaid candidates and spokespeople need to pull their socks up?
I don't know who he had in mind, but I do think the whole party has to up its game.
This is partly about better organisation, ensuring we are effective at every constituency level, and partly about getting the best out of all parts of the party as a whole.
Plaid Cymru has a tremendous team of talent across the generations. I will urge the party to look at the widest range of talent and not focus its hopes and ambitions on one individual but rather expect that individual to bring out the best in the party as a whole.
Q How can Plaid strike the balance between calling for independence and avoid "appearing to be interested in constitutional matters only"?
I support independence as the constitutional aim for our nation.
But people don't see it as the answer to their immediate problems and some voters assume we are not addressing their daily difficulties.
Plaid doesn't just exist for the sake of Wales' constitutional future. We exist to fight for and deliver fairness in social and economic policy.
I think Plaid Cymru should be concerned that the private sector is not as strong or successful as it could be. Fighting for the control and ownership of our wind, water, wave and solar resources will be a key aim under my leadership in order to build the case for independence.
Q Do you expect to see an independent Wales in your lifetime?
Yes, the end of the UK is now more likely than not in the next couple of decades. It is important Wales does not get left behind.
Q After years of trying to promote the party as representing everyone in Wales, why did the review find there was still a perception that you are perceived as the "Welsh-speaking party"?
It's the elephant in the room for Plaid. I believe Plaid's message needs to be heard afresh, in a different accent if you like.
I was raised in an English-only home at a time when Welsh was seen as a curious remnant of the past.
I learned Welsh as a young adult and have raised my children bilingually.
I believe I can be the bridge as leader between our traditional support and extend our appeal to the majority of the people of Wales, many of whom have voted at least once for us in the past.
Q Should Plaid be called the Welsh National Party in English?
No, the party already has an English name - the party of Wales. There is no actual proposal to change the party's name. The question posed in our review is how we use Welsh and English in the most effective way.
NOTE ADDED ON 7 FEBRUARY, 2012: Mr Thomas later withdrew as a leadership candidate.