First Minister Carwyn Jones meets Lord Patten for talks on BBC Wales and S4C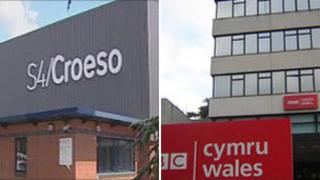 First Minister Carwyn Jones says he will set out his concerns about changes to BBC Wales and S4C when he meets the chairman of the BBC Trust.
Cuts to BBC Wales are disproportionate, he said ahead of a meeting with Lord Patten.
BBC Wales has outlined plans to save £10.7m over five years.
It has pledged to maintain investment in political coverage, current affairs and to strengthen flagship radio news programmes.
Meanwhile, the responsibility for the bulk of S4C's funding is being transferred from the UK government to the TV licence fee.
The BBC needs to deliver savings of 16% in Wales - or £10.7m - by 2016/17. About 100 jobs, mainly in support areas, will be lost.
Cuts of 20% are being made across the BBC.
Speaking before the meeting on Thursday, Mr Jones said: "The BBC has a special position in Wales and is vital in informing our citizens.
"It would be a cruel irony if the almost immediate response to the national assembly gaining further law-making powers is a reduction in the amount of coverage devoted to Wales on television and radio."
He said he would remind Lord Patten of the importance the Welsh government attaches to a partnership agreement struck between the BBC and S4C last year.
It guarantees S4C's future funding and gives the BBC a voice in the channel's direction and in choosing the authority's members.
"The BBC in Wales and nationally now has an even more important contribution to make to Welsh language broadcasting and an independent S4C in the future," Mr Jones added.