NHS doctor recruitment drive to work in Wales, particularly in west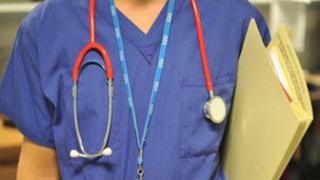 A campaign to attract doctors to Wales has been launched as the NHS tries to fill 200 medical vacancies.
The service has had difficulty recruiting staff in some parts of Wales and in certain specialisms.
Ministers acknowledge a particular problem in finding doctors to work in west Wales.
The Welsh government said its marketing campaign would tackle "misconceptions" about Wales and its health service.
At the end of December there were 201 medical vacancies being advertised in the NHS in Wales.
A website has been created to provide doctors with information about working and living in Wales.
'Unique values'
Health Minister Lesley Griffiths said: "Wales, like many other parts of the UK, faces difficulties in attracting doctors in certain locations and in certain medical specialties.
"This campaign will promote the unique values and opportunities Wales has to offer to doctors, both in a professional and lifestyle capacity."
Ms Griffiths added: "Local health boards have got vast budgets and have to make sure they have got the trained staff required."
The BMA said it had "high expectations" that local health boards and the government would increase their efforts to fill vacancies.
BMA Welsh secretary Dr Richard Lewis said: "Wales has so much to offer, but we need to improve our efforts to highlight some of the excellent opportunities Wales presents - and to continue to improve the experience of junior doctors wherever they work in Wales."
Professor Peter Donnelly, deputy postgraduate dean at the Wales Deanery, which overseas medical training, said the specialisms chosen by trainee doctors across the UK were changing.
That had contributed to shortages in fields such as paediatrics, emergency medicine and psychiatry, he said.
"Those career decisions come in cycles every five to 10 years," he said.
"West Wales and north Wales find it difficult to attract trainees."
Officials say action has been taken. Wales has boosted its presence at recruitment fairs and junior doctors are offered free accommodation in the first year after they qualify.
At a meeting of the assembly's health committee last week, Welsh government health director general David Sissling said some vacancies had not been filled, despite being advertised repeatedly.
"We've readvertised and readvertised in some cases and I'm hearing descriptions of multiple adverts failing to produce the results," he told AMs.