New enterprise zones set for Pembrokeshire and Gwynedd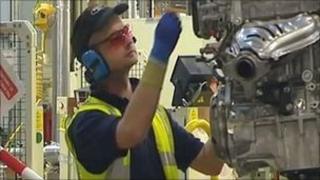 Two enterprise zones could be set up in Pembrokeshire and Gwynedd, it has emerged.
The news was announced as Business Minister Edwina Hart outlined further details on new industrial sites earmarked around Wales.
The creation of the first five enterprise zones serving different industries was announced in September.
Ms Hart has also outlined an extension to the St Athan zone in the Vale of Glamorgan to include Cardiff Airport.
Other zones are to be set up at Anglesey, Ebbw Vale, Deeside, and Cardiff to support key industries around Wales.
Ms Hart said two new enterprise zones could be created at Trawsfynydd in Gwynedd, and Haven Waterway in Pembrokeshire.
Newport City Council issued a statement saying it was disappointed its bid for a zone had been rejected.
'Innovative'
"The minister and her officials must work with us to ensure that Newport is not unfairly disadvantaged as it is squeezed on one side by Cardiff, the Vale of Glamorgan and on the other by Ebbw VaIe and Bristol and Hereford on the other," said Newport council leader councillor Matthew Evans.
The minister said not all bids were suitable as zones and ideas put forward in the applications could be pursued in other ways.
She described one proposal from Powys as "particularly innovative" and said more talks would be held regarding small businesses in the retail sector in Newtown, Llandrindod Wells and Brecon.
Pembrokeshire council leader councillor John Davies said that in its enterprise zone application, the authority identified brownfield locations near to existing energy sites around the Milford Haven waterway.
"We are delighted that the minister has recognised the importance of the energy sector to the future prosperity of Pembrokeshire and Wales," he said.
Milford Haven Port Authority chief executive Alec Don welcomed Haven Waterway's success as a new zone in Pembrokeshire
"Widely recognised as the energy capital of the UK, the waterway has strategic importance to the UK and plays a vital role in the growth of the Welsh economy; supporting thousands of jobs," he said.
"We look forward to working with our partners to further progress the possible designation of the Milford Haven waterway as a potential enterprise zone in due course."