Wales cigarette vending machine sale ban begins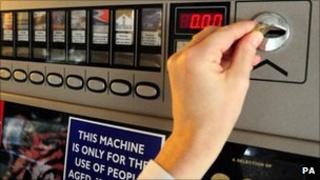 A ban on selling cigarettes directly from vending machines has come into force in Wales to make it harder for young people to buy tobacco.
The Welsh government imposed the ban after it emerged 10% of regular smokers aged 11-15 in the UK said they bought cigarettes from the machines regularly.
Welsh trading standards officials say over half of 145 attempted test purchases with young people resulted in under-age sales from vending machines.
Businesses face fines of up to £2,500.
Vending machines can still be used - but only if operated by the owners of premises and if they can't be accessed by the public.
The ban began in England in October but the Welsh government said at the time it could not meet that deadline due to legal challenges in England affecting timings in Wales.
Cigarettes will no longer be sold in vending machines in Northern Ireland from 1 March. A similar proposal in Scotland has been put on hold, pending a legal challenge.
In November 2009, Welsh trading standards officials, who will enforce the ban, published research where young volunteers made test purchases from vending machines in a number of locations.
A total 86 out of 145 attempted purchases - or 59% - were successful.
"Banning sales of tobacco from vending machines is a step in the right direction to reducing smoking addiction in childhood and improving the public health of our communities," said Steve Whitehouse, chair of Wales' heads of trading standards (WHoTS) officials.
It is estimated that there were roughly 3,000 cigarette vending machines in Wales.
Simon Clark, director of the pro-smoking group Forest, said he did not think the machines were being used by children because they were an expensive way to buy cigarettes.
"This is about de-normalisation, it is designed to take cigarettes out of the public perception," he told BBC Radio Wales.
"If children want to get hold of cigarettes they won't go to the most expensive place to do it."
He said: "The crucial thing here is we did not have to have a complete ban because vending machines are a convenience to some people."
He said suggestions included using tokens or credit cards.
'Reasonable alternatives'
"These are reasonable alternatives that would have reduced youth access to vending machines almost to zero," said Mr Clark.
Carole Morgan-Jones, campaign manager at Action on Smoking and Health (Ash) in Wales, said the ban was the most "comprehensive measure" to tackle children's access to cigarettes.
She said any alternatives put the onus on other people, such as bar staff, to stop them.
"The rationale behind it is that vending machines are easily accessible to children to purchase cigarettes and they often aren't challenged by staff where they are at the moment and this is a vital measure," she told the Good Morning Wales programme.
From 1 February, under the Welsh government regulations:
A business found to be selling cigarettes to the public directly from a vending machine could be fined up to £2,500.
However, cigarettes can still be sold from vending machines if they are in positions the public can't access them, such as behind the bars in pubs, and as long as they're only operated by managers or owners of premises themselves.
If any vending machine still displays tobacco advertising, the business could be fined up to £5,000 and the owner could face up to two years in prison.
Health Minister Lesley Griffiths said: "Making cigarettes less accessible is one way of discouraging children from taking up smoking in the first place.
"It will also support the efforts of the many adults in Wales who try to quit smoking each year."