Plaid Cymru: Elis-Thomas on the way ahead for Plaid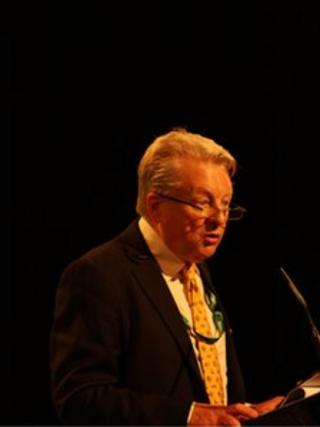 The race to lead Plaid Cymru is on. Ieuan Wyn Jones is stepping down and three Plaid AMs are vying for the job.
The contest comes in the wake of a post-mortem examination into a disappointing result for the party at last May's assembly election.
Published earlier this month, a review by Plaid policy guru Eurfyl ap Gwilym made more than 90 recommendations and covered everything from the performance of key politicians to the party's name.
We asked the leadership candidates for their assessment. Lord Elis-Thomas is the first to give his verdict.
Click to read the answers Elin Jones and Leanne Wood. A fourth candidate, Simon Thomas, was in the running, but he withdrew.
Q Why did Plaid go backwards at the last assembly election?
The study of the 2012 Welsh general election by Roger Scully and Richard Wyn Jones indicated clearly that voters inclined towards Welsh Labour policies were twice as likely to vote positively for their party of preference compared with Plaid-inclined voters.
This is an electability issue, and can only be tackled by the effective communication of clear relevant messages.
Seeming to forget in the 2011 national Welsh general election that the party had just been in government for the first time ever was not a credible basis for a campaign.
Q Is it true, as Eurfyl ap Gwilym says, that some Plaid candidates and spokespeople need to pull their socks up?
I have not read this criticism in the recent report of the review committee. My socks are made in Wales.
Q How can Plaid strike the balance between calling for independence and avoid "appearing to be interested in constitutional matters only"?
The question of governance whether for a company or a country is really about whether and how policies are effectively delivered.
The form and powers of a government are there to sustain and develop public services by planning investment, and working with businesses and other social partners.
Sustainable development has to be at the heart of 21st Century politics to ensure we tackle climate change and ensure effective use of natural resources.
Wales is the ideal size and in the best location to be a sustainable energy producer as we move into a low to zero carbon economy.
Q Do you expect to see an independent Wales in your lifetime?
Yes. The question posed by Alex Salmond whether voters in Scotland agree it should be "an independent country" has changed UK politics. 40% in Scottish opinion polls answer Yes. In Wales it is less that 10%.
This is because we haven't a proper discussion about the issue because too many people in Plaid talk about "a long term aim" which has never been properly and practically defined. This is a debate I would relish leading.
Q After years of trying to promote the party as representing everyone in Wales, why did the review find there was still a perception that you are perceived as the "Welsh-speaking party"?
When I was chair of the Welsh Language Board 20 years ago I promoted bilingualism as part of the equalities agenda.
This position has all-party support today. Sometimes I think excuses are made for a lack of real political engagement.
Q Should Plaid be called the Welsh National Party in English?
I thought Plaid Cymru was still officially registered as "the party of Wales" as well in the English language.
I appreciate this is a literal translation of the Welsh, but it is still better than "Welsh National Party" with all the ambiguity that "national" and "nationalist" can have in worldwide English.
I would stick to Plaid Cymru in the Welsh language with a meaningful English language strapline like "sustainable leadership" as in www.dafyddelisthomas.org.