Carwyn Jones says UK must become 'fit for 21st century'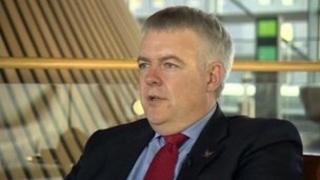 The UK has to be made "fit for purpose in the 21st Century", First Minister Carwyn Jones has said.
Mr Jones suggested giving the nations an equal share of seats in an elected House of Lords.
He was speaking after the Scottish government unveiled the question it wants to ask voters in a referendum on independence.
Wales must start thinking about its place if Scotland leaves the UK, the first minister said.
Mr Jones repeated his opinion that Scotland should remain within the UK and offered to play a role in the campaign against independence, guided by his colleagues in Scottish Labour.
He told BBC Wales' Good Morning Wales programme: "From our point of view we can't simply sit back and think it's not going to affect us."
Asked how Wales would fare if Scotland voted for independence, he said: "I think we need to start thinking about this now.
"It appears at the moment from the opinion polls that Scotland wouldn't leave the UK, but how do we make the UK fit for purpose in the 21st Century?
"We have a political structure that's from the 18th and 19th Centuries."
He suggested there was scope to reform the Lords so its members are elected on the basis of equal representation between the UK nations.
He said the concept of "devo max" - sometimes offered as an alternative to independence which would increase the powers of the Scottish parliament - was not clear, neither was its impact on the rest of the UK.
Welsh independence was not seen as a "viable option" nor a "live political issue", he said. Opinion polls have shown some form of Welsh independence is supported by about 10% of people.
"But I think the last thing we want is this debate in Scotland to be crystallised as somehow a Scotland versus England debate. Scotland has a union with England, but it also has a union with Wales," he said.
People were more interested in jobs and the economy than the constitution, said Mr Jones, who has called for the establishment of a constitutional convention to keep the UK together.
Mr Salmond told the BBC: "I note that in last year's referendum on legislative powers for the national assembly one of the arguments being used in favour of legislative powers, which was passed of course, was that the Welsh national assembly wanted to get more equivalence with the current powers of the Scottish parliament.
"So it's perfectly reasonable for people to look at implications but nobody, and certainly not the Welsh first minister or people in Wales, is going to doubt the right of the people of Scotland to determine our own future as a nation."