Plaid victories 'could deliver independence referendum'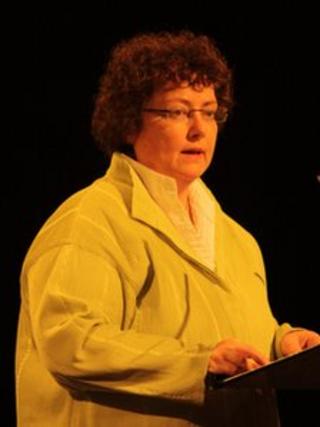 A Plaid Cymru leadership candidate said winning the next two assembly elections would give the party a mandate for a referendum on Welsh independence.
Elin Jones signalled she would place Welsh independence at the centre of the party's election platform.
It comes as the SNP prepares to publish a consultation on its plans for a referendum on Scottish independence.
Former First Minister Rhodri Morgan said Wales would be worse off if Scotland left the Union.
Ms Jones said consecutive assembly election victories in 2016 and 2020 would be enough - as the SNP have claimed in Scotland - to give Plaid the right to put the issue of Welsh independence before the people.
The Ceredigion AM is likely to face fellow AMs Simon Thomas, Leanne Wood and Lord Elis-Thomas in the race to become the party's leader when nominations close on Thursday.
'Independent nation'
She said: "There is a debate happening now in Wales, England and Scotland now about the future of the UK constitution - I want to see Plaid Cymru engaged fully in the debate in order to lead us to becoming a successful independent nation.
"I'm clearly of the view that two consecutive victories for Plaid Cymru, just as with the SNP in Scotland, could trigger a referendum for independence in Wales."
It is the first time a leading Plaid figure has suggested a referendum could take place within the next decade.
She added the party as a whole needed a clearer focus on its constitutional aims.
She said: "There is a desire within Plaid Cymru to outline clearly for ourselves, as well to the people of Wales, our route map for independence, what we mean by independence and the choices that face the people of Wales along that map, and we need to be clearer on our ambition for Wales and on our constitutional objective for Wales.
"But ultimately it will always be the people of Wales that decide on the future of this country, that's the number one principle for Plaid Cymru."
Mr Morgan said he was concerned about the implications for Wales of Scotland voting for independence.
"England can laugh it off. Northern Ireland's got its own niche. Wales is the bit that is most severely - potentially - disadvantaged and badly affected by Scotland if they were to vote for independence," he said.
"We have got to be participating in this debate."
He characterised the relationship between England and the other UK nations as "the elephant and the three Celtic fleas".
"You can't just see it in terms of Scottish parliament, English or British parliament, and never mind Wales, never mind Northern Ireland," he told BBC Wales.
"Where does it leave Wales and Northern Ireland in the end if Scotland does vote for independence? I just don't know.
'Federal system'
"We are in an impossible position afterwards if Scotland does vote for independence."
David Melding, the Conservative AM for South Wales Central, said he considered a federal system as the best option for Britain.
"We can't preserve our current arrangements," he told BBC Radio Wales. "It's clear that whatever happens in 2014 that the Britain that exists afterwards will be very different from what it is today."
Mr Melding said he believed most people in Wales and Scotland remained committed to Britain and described 'devo max', plans for full fiscal autonomy, as "a very dangerous concept".
"I don't think that would be successful for Britain," he said.
"We'd have a clear understanding of what the governments in Scotland and Wales can do and what the British government can do."