Tony Blair lacked respect for Wales, says Peter Hain book Outside In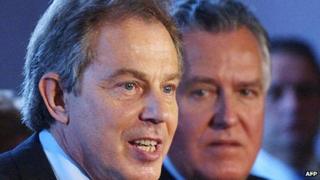 Tony Blair and his team never gave Wales "proper respect and attention," says Peter Hain, who was the former prime minister's Welsh secretary.
In his memoirs Mr Hain says a reshuffle reducing the Welsh job to a part-time cabinet role was "a spectacular bodge".
The Neath MP writes in Outside In that the 2003 shake-up appeared to have been "cobbled together at the last minute".
The Wales Office was subsumed into what was the Department for Constitutional Affairs (now the Ministry of Justice).
Mr Hain, who was Mr Blair's Welsh secretary for half his time in Downing Street, says in his book that there was initially confusion over whether the department had been abolished.
Even Mr Blair appeared unsure whether the Welsh secretary would still answer Welsh questions in the Commons.
Mr Hain said: "At one point it appeared that the secretary of state's post had been abolished, that Wales was being summarily transferred into a department under an unelected peer, Lord Falconer." Mr Hain said the Wales Office was in turmoil, with staff learning about the change via TV.
"For a government supposedly excellent at communicating, this was another example of abject failure - especially if, as later transpired, it had been considered over a period rather than cobbled together at the last minute.
"It was further evidence of Tony Blair and his team never really giving Wales proper respect and attention, contrary to Scotland where the secretary of state's role was pretty minimal because all primary legislation had gone to the Scottish parliament.
"The role of secretary of state for Wales remained crucial, then responsible for all Welsh primary legislation."
Mr Hain's memoirs cover his upbringing in South Africa and his political career from anti-apartheid activist to cabinet minister under Tony Blair and then Gordon Brown.
He reveals how plans to give the Welsh assembly more powers were almost scuppered by cabinet colleagues, including the then deputy prime minister, John Prescott.
According to Mr Hain, Mr Prescott thought the English regions were being discriminated against and was "resentful" about the idea of Wales acquiring full law-making powers.
Jack Straw, then foreign secretary, told a cabinet meeting that he had been struck by the Welsh government's "truly appalling" performance on hospital waiting times and it would be "ridiculous to start giving them more powers".
Mr Hain said Mr Straw's view was that the UK government should be saying: "If you don't deliver on policies like health you don't get more powers".
According to Mr Hain, the then leader of the Commons, Geoff Hoon, responsible for the government's legislative timetable, suggested deferring or shortening the Government of Wales Bill - a suggestion thwarted only by Tony Blair's intervention.
Mr Hain admits that he changed along his journey from protester to minister, moving towards the centre "but hopefully retaining my radical spark and values".