Carwyn Jones calls for 'radical' constitutional rethink if Scotland leaves UK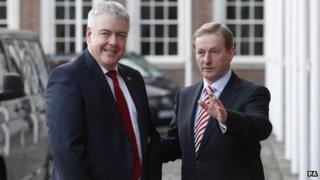 Wales' First Minister Carwyn Jones says radical changes will be needed to stop English MPs dominating Parliament if Scotland breaks away from the UK.
He said the House of Commons would need to be balanced by a new upper house with equal representation from England, Wales and Northern Ireland.
Mr Jones said the system could be based on the Senate in the United States.
Speaking at the British-Irish Council in Dublin he said he would very much regret seeing Scotland leave the union.
In response to a question about what would happen if Scotland left the UK Mr Jones told journalists: "It certainly couldn't carry on as it is now.
"You can't just take Scotland out and expect the UK to continue as before.
"You would have for example, a Parliament in London with about 550 MPs, 510 of whom would be from England. Well that's no good to us at all.
"There would need to be a fundamental rethink of the nature of the relationship between the three nations left within the UK in order to make sure that, what was then the UK, was a stable body where people felt that they had full representation."
Later, speaking to the Guardian newspaper, he said the UK should look at following the example of the US if Scotland did break away.
Federal structure
"Why not have an upper house with equal representation from England, Wales and Northern Ireland - same as the Senate," he said.
"It would be more of a federal structure.
"It is up to the people of Scotland what they do but it is certainly not the case that somehow things would carry on as normal."
The summit, hosted by Irish Prime Minster Enda Kenny, was attended by leaders from across Britain and Ireland.
Scottish First Minister Alex Salmond invited the prime minister and deputy prime minister to Scotland to discuss an independence referendum.
A Welsh government spokesman told BBC Wales: "The first minister made it clear that a major change in Scotland's relationship with the rest of Britain - or its separation from the rest of the UK - would require a radical reconsideration of Wales' constitutional relationship within a re-defined United Kingdom."