Social housing standards not met, says Wales Audit Office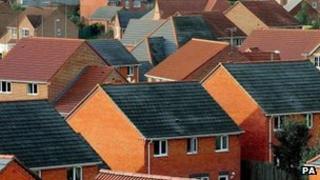 The Welsh government will not meet its own 10-year target for improving the quality of social housing this year, according to a new report.
The Wales Audit Office (WAO) said even by 2017, only 79% of properties will be up to standard.
All the 221,000 properties leased by councils and housing associations have to be in good repair, adequately heated and have modern kitchen and bathrooms.
The Welsh government said £1.6bn had been invested in improving homes.
The WAO said ministers needed to do more to ensure the money invested in improving homes was spent effectively.
Report author Paul Dimblebee questioned whether the housing targets ever had a realistic chance of being met.
"The aim that all social housing in Wales should achieve the Welsh housing quality standard in full within a 10-year period was far more ambitious than comparable targets for social housing in England and Scotland," the WAO director told BBC Wales.
"At the time it set the target in 2002, the Welsh government did not have a robust evidence base on the condition of social housing that existed at that time.
"It did not have a reliable means for working out the full amount of work that needed to be done to meet the target, or indeed how much that work would cost."
'Disappointing'
The report says the majority of below-standard homes are in areas where council tenants have voted against transferring public housing stock to the control of a housing association, or have yet to vote.
It points to "weaknesses in leadership" around the Welsh housing quality standard (WHQS) introduced in 2002 to provide a minimum standard for social housing.
And it finds that the Welsh government has "not acted swiftly enough" to support and monitor progress.
The assembly public accounts committee chair, Darren Millar AM said failing to meet the target was "very disappointing" and there were "clearly lessons to be learned" from the report.
"Of particular concern is that in the current policy and financial framework, there seems little prospect of a significant number of local authority tenants seeing their homes meet the minimum requirements of the Welsh housing quality standard within any reasonable time scale," he said.
The report said that despite substantial investment, progress towards the standards had been hit by the slower than expected development of landlords' work and time scales for local authority stock transfer, which itself has required financial support costing at least £476m.
'Effective leadership'
"The quality of social housing is clearly improving, but a lot of work remains to be done to ensure all social housing in Wales meets the minimum requirements," said Huw Vaughan Thomas, auditor general for Wales.
"The Welsh government needs to demonstrate effective leadership to ensure that progress is sustained and the substantial investment planned for the next few years is used to best effect, particularly in these challenging financial times."
The report found that landlords anticipated spending £2.5bn on major repairs and planned maintenance between last April and March 2017, to ensure compliance with the WHQS.
A Welsh government spokesperson said: "The Welsh government is actively working with landlords who have indicated that they will not be meeting the 2012 target date and particularly to help and support those authorities where tenants have voted against stock transfer.
"Around £1.6bn has been invested to date in bringing people's homes up to the standard and, in these challenging economic times, we are committed to continuing to invest in improving the housing stock.
"Despite significant cuts to capital budgets as a result of the UK government settlement, the WHQS budget has been protected for the next two years.
"We are pleased that the auditor general acknowledges that the quality of social housing in Wales is improving as a result of the introduction of the WHQS and how this has benefited tenants of local authorities and housing associations.
"We will consider this report and respond fully in due course."