HS2: Cheryl Gillan welcomes steps to limit impact of route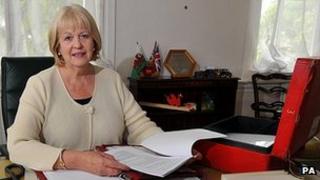 Welsh Secretary Cheryl Gillan has welcomed steps to limit the impact the approved High Speed Two (HS2) rail link will have on her constituents.
She had previously threatened to quit the cabinet over the issue but says the process is still in its infancy.
Mrs Gillan was concerned about the 90-mile (140km) route passing through her Chesham and Amersham constituency.
Only three of the 700 responses from her constituents to official consultation were in favour of HS2.
Mrs Gillan said: "We are still, relative to the time scales for the project, at the beginning of the process.
"I welcome the further steps that have been taken to mitigate the impact on Chesham and Amersham."
She has arranged to meet Transport Secretary Justine Greening to ensure any final decisions "do as little damage as possible to our environment and our local communities and fully compensate all those that could be affected by today's decision and any future new High Speed line".
Extra tunnelling has been announced in response to environmental concerns.
The first phase of the £32bn project was approved on Tuesday and could be running by 2026.
'Deep scar'
Ms Greening said the first phase would cut London-Birmingham journey times on 225mph trains to 49 minutes, with later extensions to northern England.
Opponents dispute government claims that the whole project will cost no more than £32bn and deliver benefits worth £47bn.
Previously, Mrs Gillan had said the plan would leave a "deep scar on the stunning, fragile and unique British countryside".
Before Tuesday's announcement, BBC Wales parliamentary correspondent David Cornock said Mrs Gillan was expected to delay any decision on whether to resign over the issue until the day it came to a vote in the Commons.
"There is a long way to go before a mile of track is laid or indeed before there is a parliamentary vote on this," he said.
"When it comes to the vote that really will be the crunch time when Cheryl Gillan, if she is still in government then, would have to choose between her ministerial career and her constituents."