David Davies MP: 'Immigration fuelling housing demand'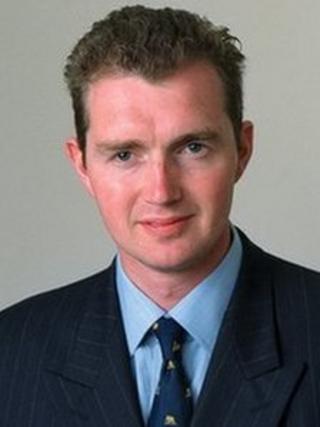 An MP has said environmental groups should speak out about the impact of immigration on Wales.
Monmouth MP David Davies said immigration would fuel demand for new homes, including in his largely rural constituency.
He said there was a danger that immigration became an issue only extremists spoke about.
But a former housing minister said recently-arrived immigrants were not a burden on local authorities.
Net migration - the number of people leaving the UK subtracted from the number arriving - hit a record high of 252,000 in 2010.
Mr Davies, the Conservative chairman of the Welsh Affairs Committee, said that based on the size of the county's population, that would mean Monmouthshire needs to build enough homes for 350 people a year.
Mr Davies has written to Greenpeace, the Campaign for the Protection of Rural Wales and Friends of the Earth.
'Population growth'
He said such groups should join a coalition of moderate politicians who "completely abhor xenophobia and racism, but wish to voice their concerns about the effect of population growth on the environment".
"At the same time we cannot escape the fact that continued large scale immigration is fuelling the demand for house building, including in areas like Monmouthshire, even though the number of recent UK arrivals living here is small," he said.
"The reason is due to the 'ripple' effect. Most new arrivals go to London and other major cities.
"This creates demand which pushes longer standing residents into outer areas, which in turn displaces others over a period of time."
A report in December 2009 found the impact of migrant workers on the housing market in parts of north and west Wales "would appear to be limited". There was no evidence to suggest workers from outside the UK were living in social housing in the six counties involved.
The study was commissioned by the then Welsh coalition government because of concern about the impact of housing demand generated by migrant households.
But Plaid Cymru AM Jocelyn Davies, the housing minister at the time, said: "They tend not to be a burden on the local authority because they see to themselves and go into private rented accommodation where the jobs are."
Monmouthshire council's local development plan says the county should make provision for 350 homes a year between 2006 and 2021.
A council spokesman said the authority's plans were based on predicted housing need, not just the impact of immigration.
Greenpeace said it would reply to Mr Davies.
Friends of the Earth Cymru director Gareth Clubb, who said he would write back to Mr Davies, said the destabilising impact of climate change would fuel migration around the world.
"If David Davies is concerned about immigration to Wales his first port of call should be to support very strong climate legislation," he said.