Carwyn Jones warns economy will make 2012 'tough year'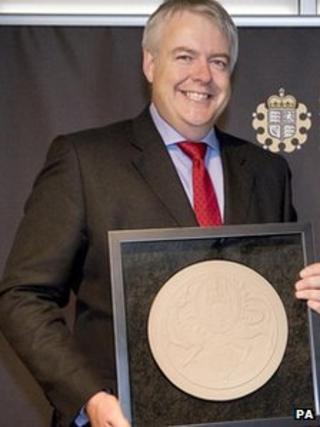 Wales faces a "tough" year in 2012, First Minister Carwyn Jones said in his Christmas message.
Despite criticism from some opponents for its performance, he said the Welsh government would do all it could to stimulate the economy and create jobs.
The past year had seen incomes squeezed and jobs lost, he said.
But it also included a referendum vote in favour of a law-making assembly in March - "the day an old nation came of age", the first minister said.
'Confidence'
The resounding Yes vote showed Wales' "confidence in who we are and what we are capable of doing", he said.
Away from politics, the "shining event" of the year was the performance of the Welsh rugby team at the World Cup in New Zealand.
"Every tackle, every kick every try tested our nerves every step of the way," Mr Jones said.
An "eventful" 2011 would be remembered for tough economic times, he said. Wales was not immune to the global climate.
"I want to reassure everybody that the Welsh government's focus for 2012 can be summed up in two words - the economy," he said.
Opponents, including former coalition partners Plaid Cymru, have accused the Welsh government of not doing enough to help the economy since Labour was re-elected in May.
But Mr Jones said his administration was speeding up major infrastructure projects, improving training for the workforce, supporting businesses and creating job opportunities for young people.
"Whilst the next 12 months will be tough, I promise that the challenges we face will be equalled by my determination to support the people of Wales throughout the coming months and years. Of that be in no doubt," he added.
In his Christmas message, Ieuan Wyn Jones - who will stand down as Plaid leader in March - said the crisis in the eurozone could push up youth unemployment in Wales.
Wales could do more to "weather the financial storms" if the Welsh government had the power to borrow money, he said.
Political leaders had to show the decisions they take to deal with the financial crisis were fair and proportionate, he said.
Mr Jones added: "We should not tolerate paying obscene bonuses to bankers when people face the prospect of losing their jobs in increasing numbers."
Welsh Liberal Democrat leader Kirsty Williams, who agreed a deal with the first minister over his budget this year, said she would work with the Welsh government and other parties to protect jobs.
She said: "What I want to see more than anything in 2012 is growth for the economy.
"I want to see small and medium enterprises thriving up and down Wales and the Welsh government doing all it can to attract foreign investment to bring in high-skilled and high-paid jobs."