London 2012: Olympics row ends with £9m windfall to Wales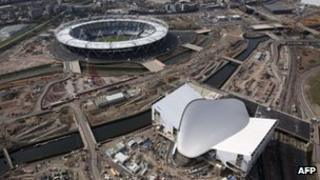 The Welsh government will get an extra £9m as a result of UK government spending on next year's Olympics.
It settles a long-running row with Westminster about whether the UK's devolved administrations should get a windfall because of the London games.
The Welsh government said it was owed money from public funding for the Olympics that was spent on regeneration and transport in east London.
Finance Minister Jane Hutt said lessons would be learned from the row.
Together with Scotland and Northern Ireland, the Welsh government argued that the Treasury's formula for financing the devolved administrations should be applied to what the UK government spent on preparing to host the Olympics.
Some of the money paid for devolved areas of spending, such as transport infrastructure.
Welsh ministers objected in 2007 when the previous UK government decided that money set aside to deliver the Olympics would be exempt from the Barnett formula.
It has now been agreed that Wales, Scotland and Northern Ireland will get a share of £30.2m next year as a result of changes to Olympics funding since the coalition government in Westminster took office in May last year.
Wales' share will be £8.9m, and Scotland and Northern Ireland will get £16m and £5.4m respectively.
'Shared commitment'
The row about Olympics funding was formally lodged as an inter-governmental dispute last year.
In a written statement, Ms Hutt said all sides had agreed on "the importance of learning lessons from all disputes in order to make them less likely to arise in the future".
She said all the governments had reaffirmed "their shared commitment to the success of the 2012 Olympics and other major sporting events in the UK".
Big changes to the public finances since the row started meant they would not revisit the last Labour government's decisions about the budget for the Olympics, she added.
Liberal Democrat AM Peter Black said he was pleased his party's Westminster coalition with the Conservatives could settle a dispute created under Labour.
Plaid Cymru MP Hywel Williams said Wales had been "cheated" out of money under the previous UK government.