Welsh government plans to open full time London office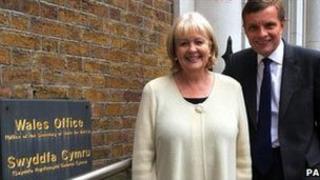 The Welsh government is preparing to open its first full time office in London in order to deal directly with foreign embassies and investors.
Officials are looking for a suitable site in Westminster to base a team of civil servants for the first time.
Ministers from Cardiff Bay already have use of facilities at Gwydyr House, home of the UK government's Wales Office.
A Whitehall source said they were "perplexed" by the decision to relocate at a time of spending cuts.
Flexible accommodation
BBC Wales understands the Welsh government is searching for suitable premises of around three thousand square feet in Westminster.
A Welsh government spokesman said: "We have always had a presence in London.
"We currently have access to a small office in Gwydyr House which houses the Wales Office, together with a small office elsewhere in central London.
"We are currently looking for suitable and appropriate accommodation in the Westminster area in order to consolidate and provide more flexible accommodation which meet our needs."
The office at Gwydyr House is currently leased to the Welsh government at a peppercorn rent, although the Welsh Secretary Cheryl Gillan told the Welsh Affairs Committee earlier in December that she didn't know how often it was used.
She told MPs that it was "a very nicely appointed office" and that Welsh government ministers were "always welcome".
A Whitehall source said: "They seem to be seeking separation between Wales and Westminster just for the sake of it.
"Here's another example of the Welsh government choosing not to cooperate but to plough their own furrow for the sake of it - and to the detriment of Wales."
Political rivals
Relations between the Labour Welsh government and Conservative ministers at the Wales Office have become increasingly strained since last May's election, with frequent public disagreements about funding and the handling of the Welsh economy.
Aside from Gwydyr House, the Welsh government's other central London location is a small serviced office in the Victoria area which used to house officials from International Business Wales, but is not currently in use.
The Scottish government says it does not have a dedicated office in London, but ministers and officials use facilities in the UK government's Scottish Office headquarters at Dover House in Whitehall.
Commercial property consultants say the Welsh government could expect to pay around £50 per square foot for office space in the Westminster area, meaning the annual rent for the planned office could be around £150,000.
They say an office of 3,000 square feet would allow space for around 20 people, including a boardroom and reception area.
In 2004 the then Welsh assembly government opened an office in New York City's iconic Chrysler building to boost Wales' international profile with American business.
Civil servants moved out in 2010 to share premises with the British Consulate on Third Avenue as part of a review of the Welsh government's overseas offices.
These included bases in continental Europe, China, Australia, Dubai, Hong Kong, Bangalore, Delhi, and Tokyo.