Small businesses' £15m growth fund deadline concern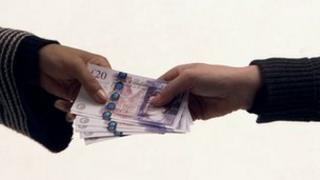 Small businesses have voiced concerns about the timescale of the Welsh government's new £15m economic growth fund.
From Monday Welsh businesses can apply for a minimum of £100,000 of matched funding to create and safeguard jobs.
Business Minister Edwina Hart has urged them to take advantage of the scheme.
But the Federation of Small Businesses said the 31 January deadline for applications does not give seasonally busy businesses enough time to apply.
The fast track grant fund for investments was set up by the Welsh government to provide short-term assistance to businesses in Wales in response to the current global economic crisis.
As the scheme came into effect Ms Hart said any offers would be time limited to ensure grants were taken up and used before the end of 2012, so businesses needed to "move swiftly".
"The Welsh government is listening and responding to the needs of business," she said.
The fund was launched at the same time as the £40m Wales SME Investment Fund - a dual package to help businesses of all sizes and in all sectors across all areas of Wales.
The Welsh government said the two schemes had the potential to create up to 5,000 new jobs and safeguard other jobs.
Grants are not repayable and it is anticipated the Wales Economic Growth Fund will assist more than 100 businesses.
'Supportive'
Mike Learmond from the Federation of Small Businesses in Wales, said it was pleased that the money had been put into place.
"We are very supportive and grateful to the Welsh government for putting this in place," he said.
But he added: "What we are very keen for is that as many businesses as possible can access this funding and that the funding does get used in its entirety."
Mr Learmond said some businesses would be very busy over the Christmas period, working at full tilt and coping with temporary staff.
Businesses also had to deal with tax deadlines at the end of January, he said.
"So purely in terms of the timescale that we've got a concern. It's just not giving them enough time to get completed application forms.
"I'd just like to see the deadline extended a little bit longer to give businesses time to get an application in."