Paul Flynn MP apologises for Jewish ambassador remarks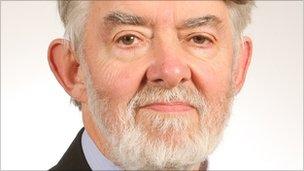 An MP has apologised after he was criticised for asking if the British ambassador to Israel should be Jewish.
Paul Flynn was accused of making anti-Semitic remarks after suggesting Matthew Gould, Britain's first Jewish ambassador to Israel, had "divided loyalties".
But the Newport West MP regretted that "clumsily expressed remarks of mine have caused anger and upset".
Harlow MP Robert Halfon, who is Jewish, said Mr Flynn was not anti-Semitic.
Conservative MP Mr Halfon, who knows Mr Flynn from their time on the Public Administration Select Committee, had argued that the Labour MP had made an "outrageous attack".
Mr Flynn was also criticised by MPs from his own side as well as by the Jewish Chronicle newspaper after saying the post of ambassador to Israel should go to "someone with roots in the UK".
He made his comments to Sir Gus O'Donnell, the UK's senior civil servant, during questioning about the relationship between former Defence Secretary Liam Fox and Mr Fox's friend and advisor Adam Werritty.
Labour chief whip Rosie Winterton was reported to have called Mr Flynn in to discuss his comments.
The Labour movement blog LabourList said the party's leadership was thought to be unhappy with the remarks, claiming a source said party leader Ed Miliband "thinks these comments are totally unacceptable".
Speaking to the Jewish Chronicle, Mr Flynn said he agreed that Mr Halfon's criticism of him was fair and he wanted to withdraw his previous remarks and apologise.
"I greatly regret the interpretation that has been placed on them and I fully understand why offence was given," he said.
"Some of the interpretations of these words were exaggerated suggesting malign intent that was never present or intended. Inference was built on inference.
"There is no reason that anyone of any race or religion should be debarred from public office. That has always been my opinion.
"The comments were made in a heated exchange in a select committee discussion on probable warmongering."
Mr Flynn added: "I have been an elected representative for the past 40 years and I do not have an atom of racism or anti-semitism in me.
"If there was someone would have noticed by now."
Related Internet Links
The BBC is not responsible for the content of external sites.