Ex-boundary chief Paul Wood's obsessive requests - claim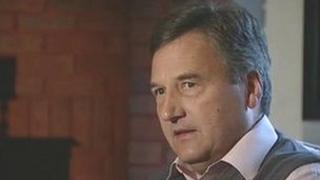 The man formerly responsible for changes to local council boundaries has been accused by the Welsh government of making "obsessive" and "vexatious" requests for information.
Paul Wood was sacked as the head of the Local Government Boundary Commission for Wales (LGBCW) after an independent review found it "not fit for purpose".
The government said his latest request could "cause harassment" to staff.
But Mr Wood, a former policeman, said he was disappointed by that stance.
He and two other members of the commission were sacked by Local Government Minister Carl Sargeant in the summer.
Mr Wood has since submitted several Freedom of Information requests asking to see internal government documents relating to the commission and its work. The most recent request asked to see emails and diary records from a former minister and his officials.
In its response, the Welsh government says it considers these, in the context of previous requests, to be vexatious.
In her letter rejecting Mr Wood's application, Sinead O'Toole, from the government's scrutiny, democracy and participation team, says "it is not unreasonable to conclude you are conducting a fishing expedition".
"In light of the amount of information already released to you concerning the LGBCW and the communication between officials on the subject, we consider that these requests could fairly be seen as obsessive."
She adds that the officials named by Mr Wood have already spent a great deal of time locating information for his previous requests, at the expense of other work, and dealing with the latest ones "would cause harassment and distress".
Seeking information
The Freedom of Information Act allows public bodies to refuse to comply with requests if they consider that they can fairly be described as obsessive, harassing the authority or causing distress to staff, imposing a significant burden, being designed to cause disruption or annoyance, or lacking in any serious purpose or value.
It is understood Mr Wood has been seeking information about a meeting in October 2009 where Mr Sargeant's predecessor Brian Gibbons met a senior civil servant and his political adviser to discuss the LGBCW.
Responding to the Welsh government's rejection of his request for further information, Mr Wood said: "I am disappointed that the Welsh government seem to be going to extraordinary lengths to avoid revealing information about this meeting.
Controversial process
"It may well show that nothing untoward happened - but by taking this stance it will inevitably lead to people believing they may be holding something back that is damaging to them."
Speaking to BBC Wales' Dragon's Eye programme in October, Mr Wood said the interests of politicians had been put ahead of the public.
The LGBCW was involved in a lengthy and controversial process of amending the boundaries of some council wards which was bitterly opposed by many senior figures in local government.
The Welsh government suspended the process last December, and following a review by Glyn Mathias, the former head of the Electoral Commission in Wales, Mr Wood and his two fellow commissioners were sacked in July.